Connected 4G Dashcam
Connected 4G Dashcam offers GPS tracking as well as Forward and Driver facing cameras, all in one device. Recorded video footage is integrated with the location tracking data which means you can view everything in one place, on-demand and anytime you need. Gain complete visibility of your vehicles and drivers with GPS-based location tracking coupled with Dual facing cameras, recording footage from the road the vehicle is facing and footage from the driver behind the wheel.4G Dashcam's internal connectivity feature eliminates the need for the managers to manually retrieve memory disks from vehicles or to retrieve footage from a DVR.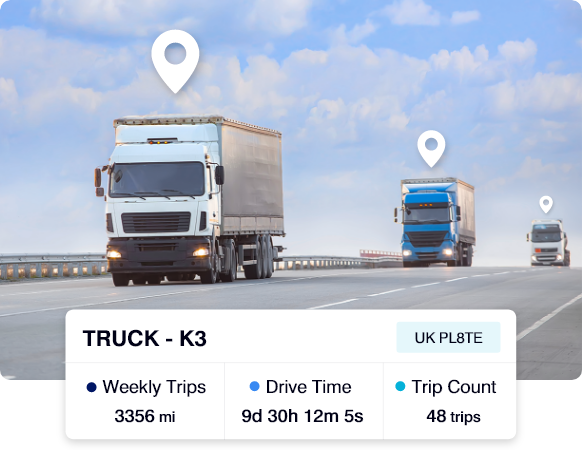 UK and Eu Coverage
GPSLive service subscription includes coverage in UK & EU, unlimited GPSLive software, and GPSLive app usage. The tracker will be supplied pre-configured by our team of experts, and it will be installed with a multi-network SIM card. Our M2M SIM cards will pick up the best signal allowing you to keep an eye on your fleet and drivers.
Prepaid tracking service options.
Unlimited GPSLive software and app access, only one cost. No hidden fees or long contracts.
Combine GPS Tracking with On-demand HD Footage
GPSLive cloud-based GPS tracking software is engineered to meet the highest demands of individual users, features live location tracking and offer HD video footage when coupled with a Connected 4G Dashcam. The dashcam automatically uploads impact videos to the cloud for you to view them whenever you require. There's no need to pick up SD cards or hard disks from the camera to view the videos, everything is accessible through the cloud. 4G Dashcam comes with an integrated GPS chip and allows live location tracking in real-time, 24/7. The recorded footage is available from both directions, facing the road and the driver, and in 720p HD quality.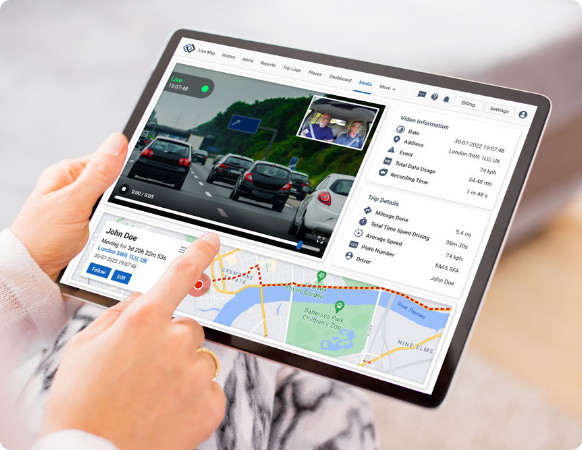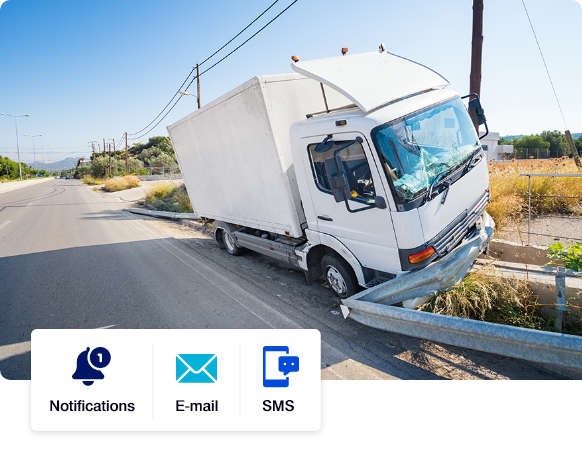 Alerts & Instant Notifications
Set up alerts for important events such as; speeding, idling, moving, out of work hours use, or draw boundaries around important areas to use the zone in and out alerts to get instantly notified if a vehicle enters or leaves the zone. The 4G Dashcam automatically uploads critical videos to the cloud and allows retrieving custom footage from a custom date and time in the past up to 10 days. You will be able to access to footage using GPSLive web or mobile app. Using the camera's built-in g-sensor, GPSLive, you notify you instantly if it detects: harsh acceleration & harsh braking or if an accident occurs. Allowing you to educate your drivers about good driving habits and get help to their location quickly in case of an accident.
Key Features
720p HD Video
4G Dashcam records footage from in and out of the vehicle in HD 720p quality, which allows you to watch them later in clear detail.
Dual Facing Cameras
4G Dashcam has two cameras, one facing the driver and one facing the road, both cameras recording in high quality.
Location Tracking
4G Dashcam comes with an integrated GPS chip for allows you to track the location of the vehicle in real-time.
Wide Coverage Area
We offer national coverage in the United Kingdom and we offer optional global tracking and coverage.
Alarms & Notifications
Set up alarms to get notified instantly of important events so that you don't have to keep an eye on vehicles at all times.
Cloud Storage Space
We provide cloud storage space for storing 720p videos, so there's no need to keep track of SD cards or disks.
Connected 4G Dashcam Options and Pricing
Connected 4G Dashcam comes with UK & EU coverage as well as SD cards.
Lite
GPS Tracking
Mobile App
Auto Upload on Impact Detection
Auto Upload on Panic Button
Video On Demand
Popular
Core
GPS Tracking
Mobile App
Auto Upload on Impact Detection
Auto Upload on Panic Button
Video On Demand
Live Streaming
Premium
GPS Tracking
Mobile App
Auto Upload on Impact Detection
Auto Upload on Panic Button
Video On Demand
Live Streaming
Hyperlapse Images
Traveling abroad often? Then our EUROPE + UK Sim card is a fantastic solution to avoid costly roaming charges, instead pay a fixed annual cost.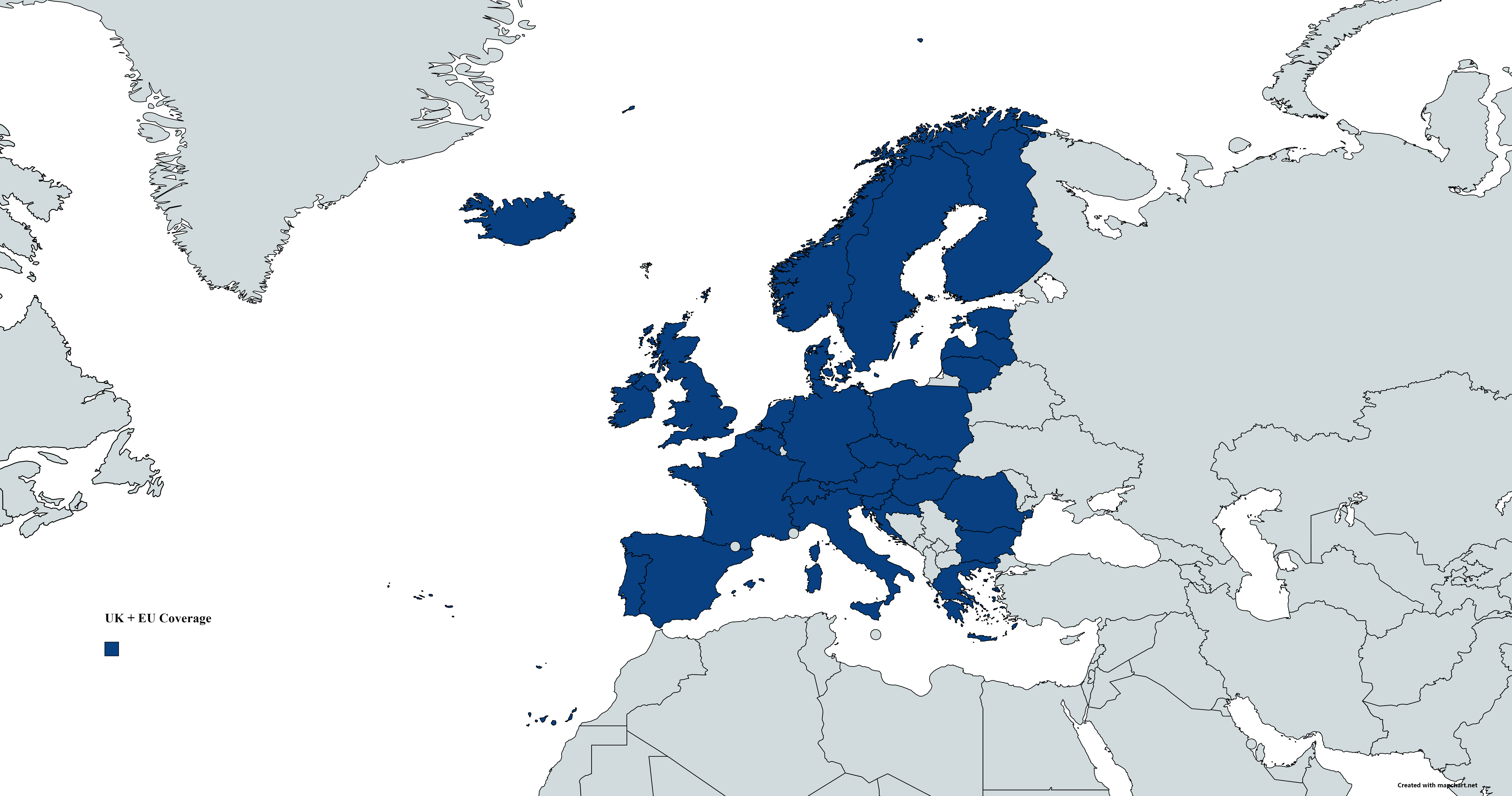 | | |
| --- | --- |
| COUNTRY | NETWORK |
| | |
| Austria | Hutchison Drei Austria GmbH |
| Austria | T-Mobile Austria GmbH |
| Belgium | Telenet Group BVBA/SPRL |
| Belgium | ORANGE Belgium nv/SA |
| Belgium | Proximus PLC |
| Bulgaria | Telenor Bulgaria EAD |
| Bulgaria | Mobiltel EAD |
| Croatia | Tele2 d.o.o za telekomunikacijske usluge |
| Croatia | VIPnet d.o.o. |
| Cyprus | Cyprus Telecommunications Authority |
| Cyprus | MTN Cyprus Limited |
| Cyprus | PrimeTel PLC |
| Czech Republic | O2 Czech Republic a.s. |
| Czech Republic | Vodafone Czech Republic a.s. |
| Czech Republic | T-Mobile Czech Republic a.s. |
| Denmark | HI3G Denmark ApS |
| Denmark | Telia Nattjanster Norden AB |
| Denmark | Telenor A/S |
| Denmark | TDC Denmark A/S |
| Estonia | Telia Eesti AS |
| Estonia | Tele2 Eesti Aktsiaselts |
| Estonia | Elisa Eesti AS |
| Finland | Ålands Telekommunikation Ab |
| Finland | DNA Ltd |
| Finland | TeliaSonera Finland Oyj |
| Finland | Elisa Corporation |
| France | Free Mobile |
| France | Orange |
| France | Société Française du Radiotéléphone S.A. |
| France | Bouygues Télécom |
| Germany | Vodafone GmbH |
| Germany | Telekom Deutschland GmbH |
| Germany | Telefónica Germany GmbH & Co. OHG |
| Greece | Vodafone-Panafon Hellenic Telecommunications Company S.A. |
| Greece | Cosmote Mobile Telecommunications S.A. |
| Hungary | T-Mobile Hungary |
| Hungary | Vodafone Hungary Mobile Telecommunications Company Limited |
| Hungary | Telenor Magyarország Zártkörűen Működő Részvénytársaság |
| Iceland | Síminn h.f. |
| Iceland | Vodafone |
| Iceland | Nova ehf. |
| Ireland | Three Ireland (Hutchison) Limited |
| Ireland | Meteor Mobile Communications Limited |
| Ireland | Vodafone Ireland Limited |
| Italy | H3G S.p.A. |
| Italy | Wind Telecomunicazioni S.p.A. |
| Italy | Vodafone Italia S.p.A |
| Italy | Telecom Italia SpA |
| Kosovo | VALA – Monaco Telecom |
| Latvia | Latvijas Mobilais Telefons |
| Latvia | Tele2 SIA |
| Liechtenstein | Telecom Liechtenstein AG |
| Lithuania | UAB Bitė Lietuva |
| Lithuania | Omnitel |
| Lithuania | UAB Tele2 |
| Luxembourg | POST Luxembourg |
| Luxembourg | Tango SA |
| Malta | GO p.l.c. |
| Malta | Vodafone Malta Limited |
| Netherlands | Vodafone Libertel B.V. |
| Netherlands | T-Mobile Netherlands B.V. |
| Netherlands | KPN B.V. |
| Netherlands Antilles | Curaçao Telecom N.V. |
| Norway | Telia Norge AS |
| Norway | Telenor Norge AS |
| Norway | TDC Norway A/S |
| Poland | Polkomtel Sp. z o.o. |
| Poland | P4 Sp. z o.o. |
| Poland | T-Mobile Polska S.A. |
| Poland | Orange Polska S.A. |
| Portugal | NOS – Comunicações, S.A. |
| Portugal | Vodafone Portugal – Comunicações Pessoais, S.A. |
| Romania | Telekom Romania Mobile Communications S.A. |
| Romania | S.C. Orange România S.A. |
| Romania | S.C. Vodafone Romania S.A. |
| Slovakia | O2 Slovakia, s.r.o. |
| Slovakia | Orange Slovensko, a.s. |
| Slovakia | Slovak Telekom, a.s. |
| Slovenia | SI.Mobil d.d. |
| Slovenia | Telekom Slovenije d.d. |
| Slovenia | Tusmobil |
| Spain | Vodafone España, S.A.U. |
| Spain | Xfera Móviles, S.A. |
| Spain | Orange Espagne, S.A., sociedad unipersonal |
| Spain | Telefónica Móviles España S.A. |
| Sweden | Telenor Sverige AB |
| Sweden | Hi3G Access AB |
| Sweden | Telia Company AB |
| Sweden | Tele2 AB |
| Switzerland | Swisscom (Switzerland) Ltd |
| Switzerland | Sunrise Communications AG |
| Switzerland | Salt Mobile SA |
| United Kingdom | Telefónica UK Limited |
| United Kingdom | Hutchison 3G UK Limited |
| United Kingdom | Vodafone Ltd |
| United Kingdom | EE Limited |
| United Kingdom – Isle of Man | Manx Telecom |
Additional information
| | |
| --- | --- |
| Weight | 700 g |
| Dimensions | 30 × 20 × 20 cm |