At Rewire Security we strive to provide our customers with the best tracking services on the market. Our team of engineers has spent thousands of hours analyzing and testing tracking devices manufactured all over the globe, to make sure our customers get the best for the most affordable price. Cloud-based GPS tracking platform – GPSLive allows businesses and individuals to monitor their assets and vehicles using a PC, Smartphone or a tablet.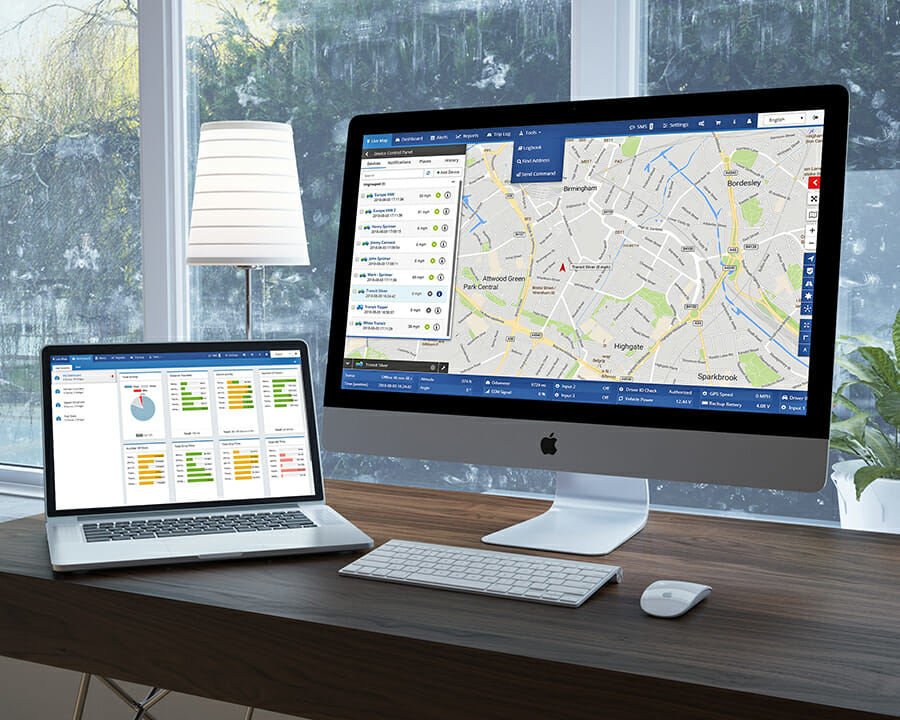 For the past three months our developer team has been working tirelessly on the software upgrades for GPSLive, and with our latest major software upgrade, we present our users with sophisticated features to help them manage their businesses and improve their user experience. The software upgrade includes prominent features such as Trip Log, National Speed Limits, a new user interface for the Alarms and Reports.
GPSLive tracking software provides the managers and company owners with extensive information about their drivers and vehicles, such as; live tracking, route history, event alerts, business mileage logging, and reports. After all, a fleet manager can't accompany all assets and employees in the field but vehicle tracking devices can do it for them, and with the help of the advanced features of the GPSLive software, we aim to make the fleet managers' life easier.
Let's take a look at the new and improved features in detail and how they help companies manage their fleet operations.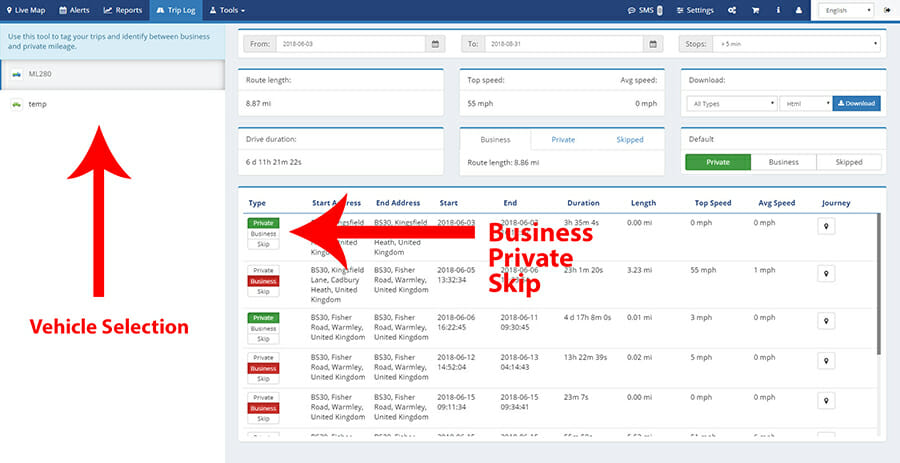 Trip Log: HMRC allows companies who use their vehicles for business purposes to deduct a portion of their taxes. The system is designed to compensate fleet businesses for their vehicle-related costs such as gas, registration fees, insurance payments, taxes and repair costs. The tax deduction rate per mile changes every year, and it is calculated according to the fluctuations in the market. To be able to claim a tax deduction for business trips, companies are required to keep detailed mileage logs. The new feature of GPSLive; Trip Log, provides businesses with an easy-to-use tool to identify business trips and generate the mileage reports to present to the HMRC.
By using Trip Log, a fleet manager can access all the trips taken by company vehicles and determine if they are business or personal trips. The mileage logs need to include specific data such as the date of the trip, the total mileage, the departure and arrival locations and the purpose of the business trip. Trip Log is an important tool that helps businesses to access all the requested data and benefit from tax reimbursement to the full extent. Mileage tax deduction service can be a major contributor to reducing the fleet expenses when you consider the lengthy distances company trucks cover every year. With Trip Log, fleet businesses can save tens of thousands of pounds on tax returns annually.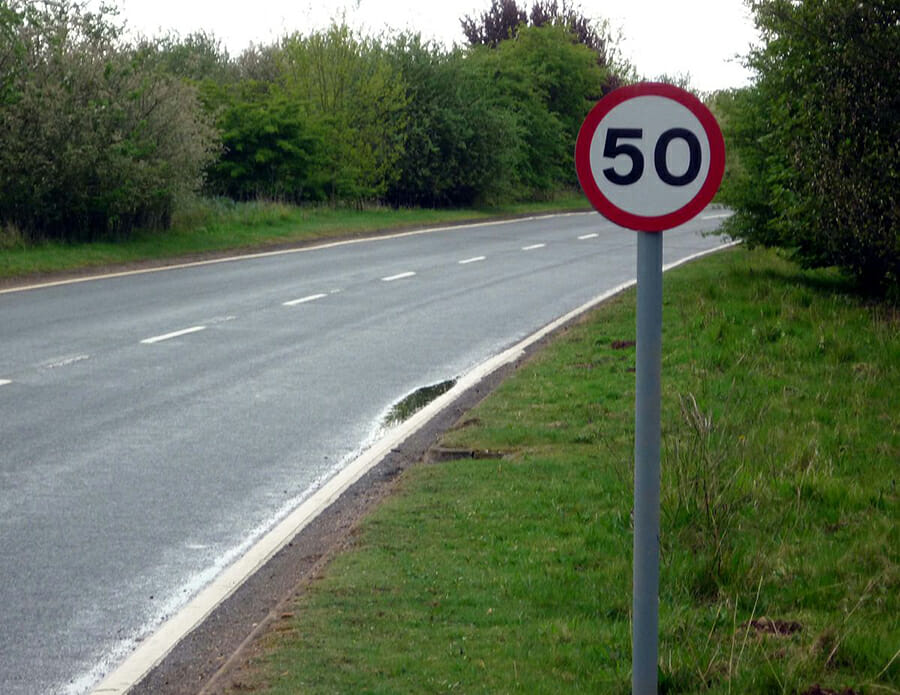 National Speed Limits: Fleet employees are busy people, and sometimes they tend to ignore the rules in place to make their delivery on time. Speeding has always been a major problem for fleet businesses, and this risky behaviour is the main cause of the frequent accidents and traffic fines that cost the fleet companies considerable amounts of money and downtime in the long run.
The latest feature of GPSLive constantly checks the vehicle's real-time speed and the national speed limit the vehicle is driving on. Not only will field managers get notified every time a driver exceeds the speed limit, but they will also be able to compare their speed to the national speed limit of the road the employee was driving on to check for possible speed violations. The national speed limit feature is a great way to ensure the well-being of an employee and to avoid paying hefty traffic fines.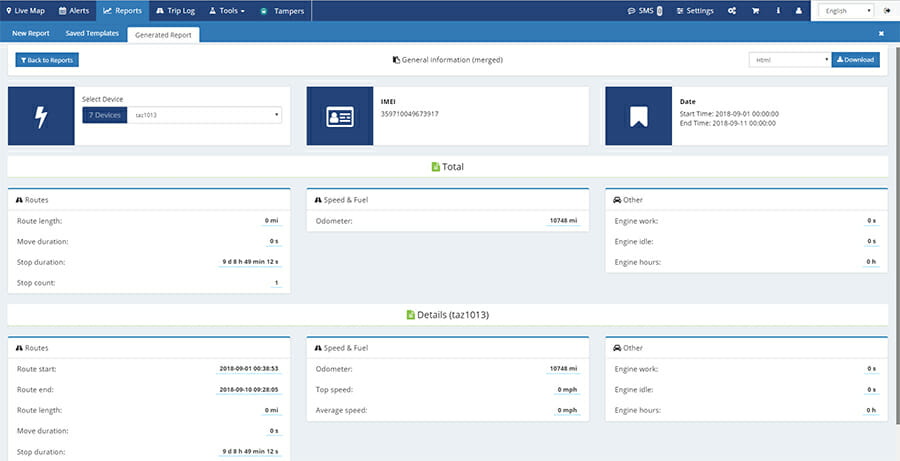 Reports: The tracking and telematics devices supplied by Rewire Security gather and transmit a plethora of information to GPSLive. From fuel consumption to engine error codes, managers can customize and generate a variety of detailed reports to access all the relevant information for viewing the driving behaviour of their employees, identifying the causes of excess fuel usage, improve maintenance schedules and monitor speed violations.
Fuel costs are a major expense for every fleet business, and every company has unruly drivers and well-known issues among transport and delivery businesses causing unnecessary fuel consumption. Some drivers may be taking side trips, or the fuel consumption of certain vehicles may fluctuate so much compared to others. Fuel reports can help find out the driver errors such as speeding, idling for long periods of time and using company vehicles for personal trips. Speeding increases fuel usage by up to 30%, and idling can cause fleet vehicles to waste excessive amounts of fuel. It is important to get ahead of these issues before they rack up to thousands of pounds in wasted fuel.
It's a known fact that if managers monitor their employees and help them improve their driving habits, they will spend less fuel, and their vehicles are less likely to break down during a trip. A broken vehicle on the side of the road that needs to be replaced is a tremendous amount of wasted resources. Analyzing the engine error reports will help determine when a vehicle needs to go for servicing and keep the fleet maintained at all times. Healthy vehicles are essential to lower the costs and prevent any unexpected malfunctions during business trips. Fleet managers become more aware of the vehicle issues with the help of engine reports and solve them before they cripple a company vehicle.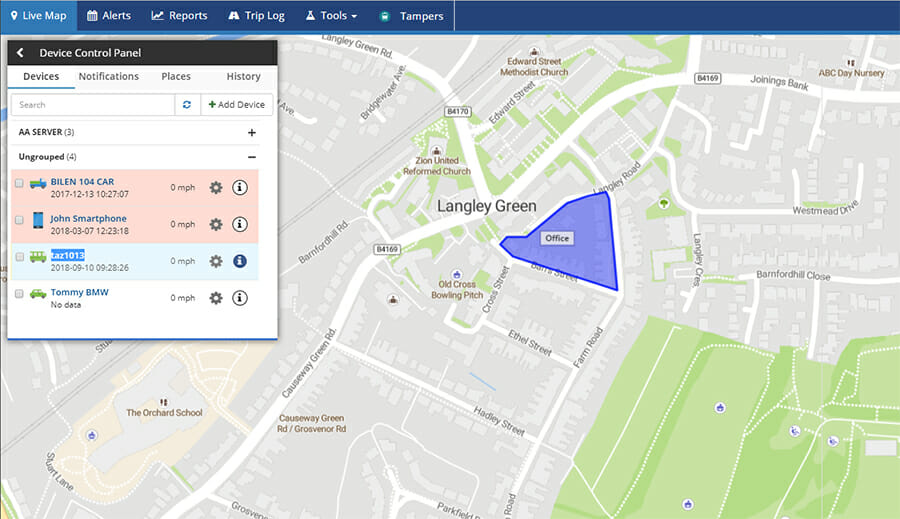 Geofence zones: Vehicle fleet tracking technology allows managers to create a virtual geographic perimeter, enabling the tracking software to trigger a response when a vehicle enters or leaves a predetermined area. Fleet companies operate in many different sectors; construction, utility, plumbing, sales, and maintenance. This feature can be used for multiple purposes for various industries. Businesses can use geofence zones to check when their employees arrive at a job site and when they leave. If a technician or a worker leaves a zone earlier than the allotted time, the field manager can call them to check if there is an emergency situation. Another practical use for this feature is to protect valuable assets by creating a safe zone around the construction sites and make sure no one moves them without authorization. Companies with a mobile workforce can also use geofence zones to make sure their sales teams stay in their designated area and increase productivity.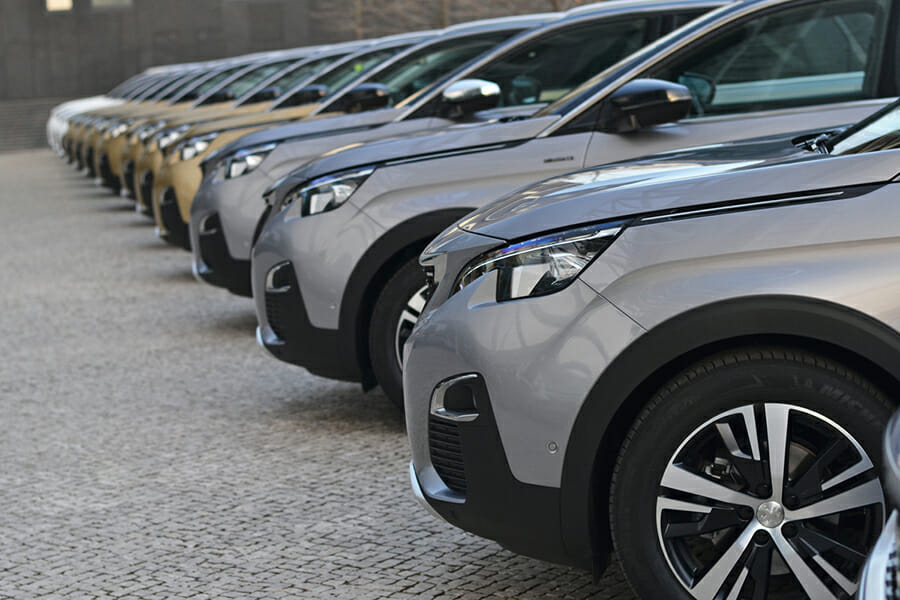 Managers can monitor the number of time employees spend at a job site with the help of entry and exit alerts to check if a person spends more time on a work order that they are supposed to. Employees may leave a work site abruptly due to an emergency situation, and this is when geofence zones are most valuable with their instant notifications. In the event of an injury or a fall, field managers can send medical aid to the employee's exact location as soon as possible.
Building and managing a successful fleet company is not an easy task. Back in the day, every piece of information was recorded by hand on paper and this only made it more complicated for managers to run an efficient operation. The fleet companies needed an effective way to deal with the daily struggles of managing a fleet; the invention of GPS and the subsequent developments in the field provided the definitive solution to all of the problems of running a vehicle fleet: Fleet management systems. GPS tracking technology has been helping the fleet industry to step into a new age and transport, and delivery enterprises were among the first companies to utilize this futuristic technology to streamline their operations. Now with the latest innovations by the tech companies and the improvements made in the field of GPS, companies of all sizes have access to the revolutionary technology that completely changes the operational capabilities of a fleet business. There is a valid reason why the worldwide market of vehicle fleet tracking is growing exponentially, and there has never been a better time to adopt professional fleet management solutions than now. These sophisticated systems are designed to reduce overall costs and minimize the risk of accidents and theft by improving the safety and security protocols.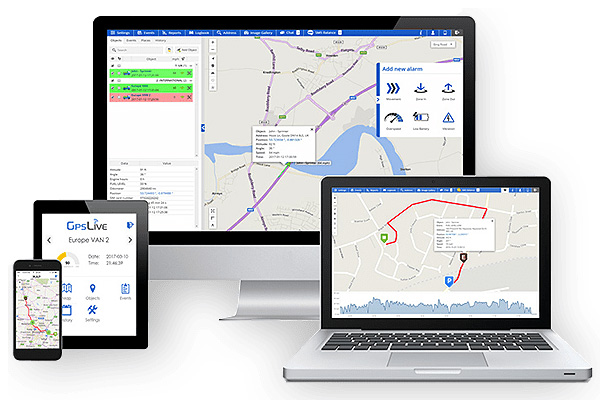 Fleet management systems can be tailored to suit businesses of any size. Whether you have 10 or 1000 vehicles, tracking software can become an irreplaceable tool and allow fleet managers to make the necessary adjustments to improve their fleet operation. A fleet tracking system may seem like a sizeable investment for a smaller company, but with the reduction in the overall expenses, it pays for itself in the long run. Even more so, with the massive savings in almost every aspect of the fleet operation, your company will increase its revenue and profits that can be used to reinvest and grow your business.
Large transport and delivery companies are increasingly shifting their infrastructure towards telematics and fleet management systems over the last years. It is clear that these systems have a significant impact on fuel consumption, cost reduction and provide insight into the fleet operation. The ability to track a vehicle's location in real-time has obvious benefits. Field managers can coordinate the movements of every vehicle, redirect them to meet with customers in need as well as choose shorter paths to their destination. Fleet management systems allow field managers and supervisors to interfere with every step of the operation.
As a company owner, if you are looking for a way to improve the operational performance and productivity of your fleet, then you should invest in a fleet management system and start reaping the benefits immediately.
Summary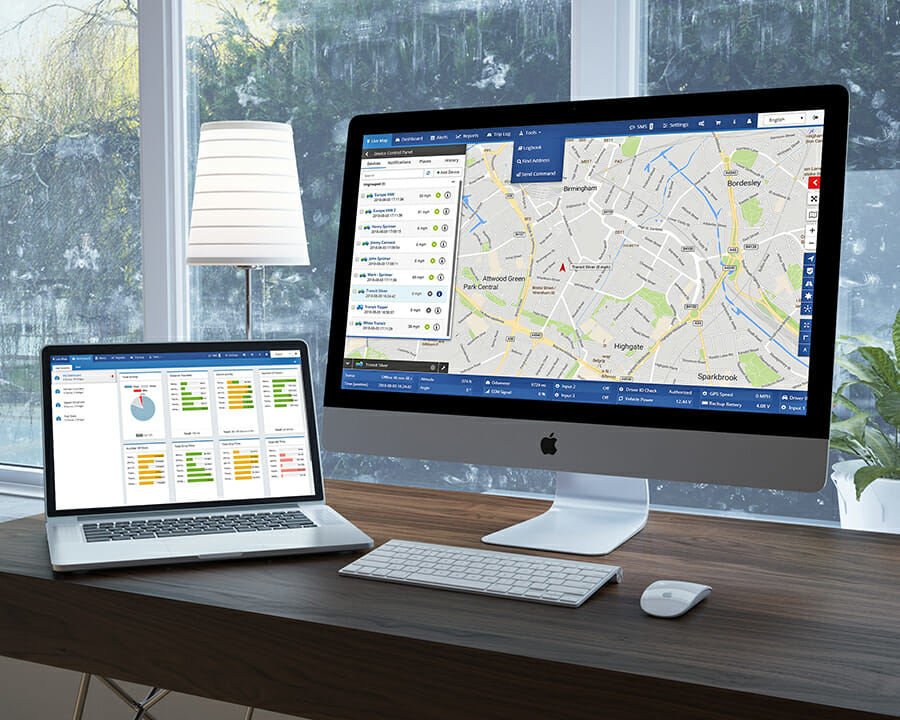 Article Name
Latest News and Updates From GPSLive Tracking Software
Description
Latest News and Updates From GPSLive Tracking Software for fleet management and individual GPS Tracking Systems.
Author
Publisher Name
Publisher Logo