Portable GPS Trackers
Compact, battery-powered GPS tracking systems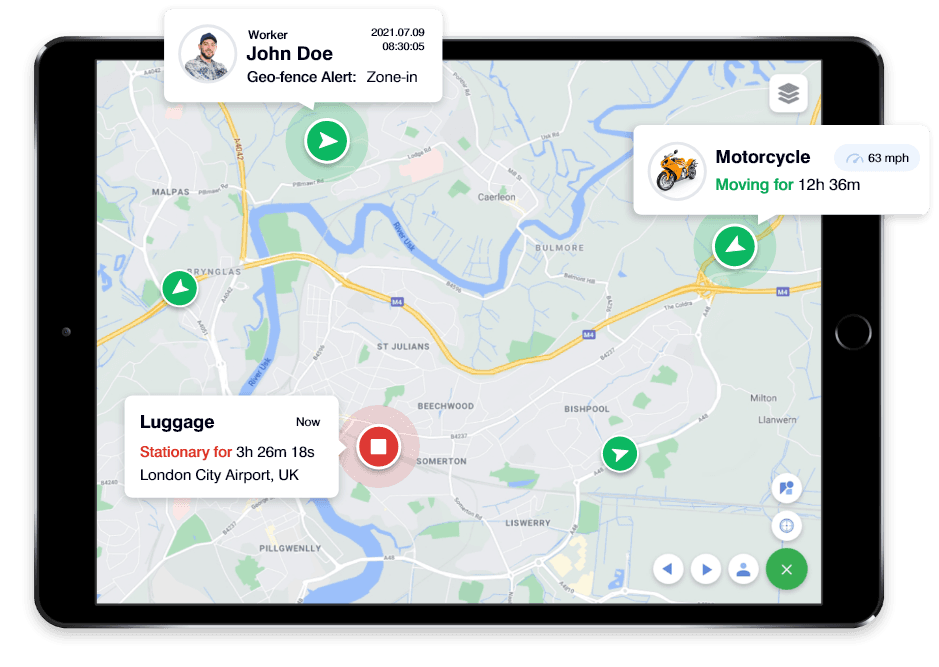 Locate Assets & People
Monitor the location of vehicle and assets, kids, Alzheimers' and dementia patients, field employees or valuable cargo with Portable GPS tracking systems to improve the safety of people and security of business assets. Portable tracking devices are small gps trackers built for tracking people or unpowered assets in real-time. We offer small devices such as the Spytrack Nano – which weighs only 68 grams and features 10 days stand by. As well as the AT50 asset tracker with 4 years stand by, and the Spytrack Plus with 2 months stand by. Portable trackers are also ideal for tracking multiple vehicles with one portable device, tracking one vehicle at a time.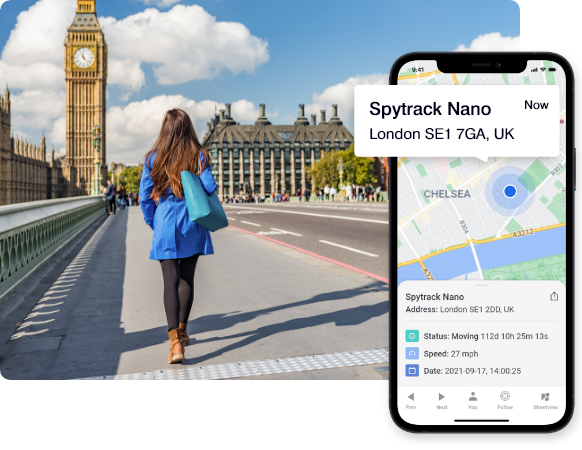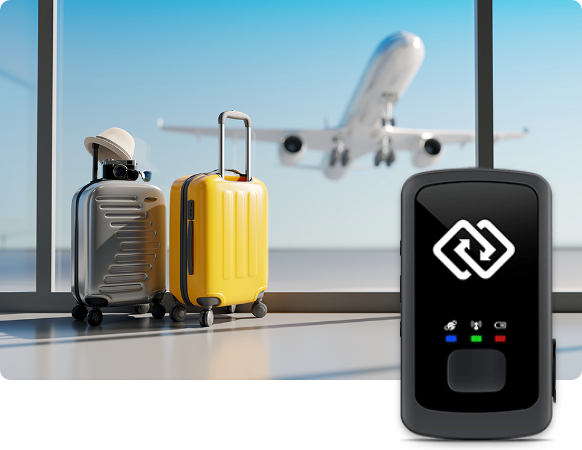 Protect Valuable Items
Track the location of your assets with GPS in real-time, anywhere in the world. Portable GPS trackers provide individuals with peace of mind and managers with valuable information by allowing them an interface to view the location of assets on-demand. The valuable location and movements information allows managers to place additional safeguards to prevent loss of valuable equipment and to eliminate asset theft. Spytrack Nano comes with a mobile app for tracking the device's location, and it can be placed inside luggage and cargos for implementing a security measure against theft and loss of personal items travelling internationally.
GPSLive Platform Features
GPSLive cloud based GPS tracking platform can be accessed via PC, tablet and smartphones.
Cloud Based Tracking
GPSLive cloud-based GPS Tracking platform stores all of your vehicles' location and critical data on the cloud for you to access it whenever should you require.
Usage Reports
GPSLive allows users to generate or schedule usage, mileage and driver behavior reports. Usage reports allow businesses to lower their expenses and optimize their fleet.
Trip Logging
Trip Log enables business owners to identify business and private uses of vehicles allowing them to distinguish mileage done by company vehicles for tax reimbursements.
Global Coverage
We offer global tracking and coverage, our trackers will pick up the best signal in 150 countries and there are no extra roaming charges or fees when you travel abroad.
Alarms & Notifications
GPSLive allows users to set up alarms to get instantly notified when a vehicle; speeds, enters or leaves an area, used out of work hours or if the tracker is disconnected.
Ready-made Solutions
We provide individuals and fleets with ready to work right out of the box GPS Tracking solutions, including hardware, software and M2M SIM cards with global coverage.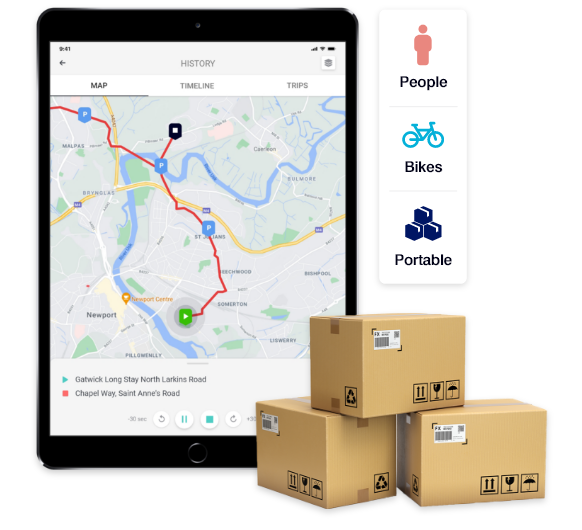 View Previous Routes
In addition to being able to locate an asset instantly, Portable tracking systems allow you to view previously taken routes, up to 12 months in the past. The movements of the devices are stored in the cloud for you to view a replay of the movements of an asset to quickly identify where it has been and when. History date proves useful in finding lost and stolen assets by providing a detailed timeline of it's route. History timeline allows businesses to quickly identify which drivers visited which client, when and how long did they stay, which can be used as proof of service for delivery businesses. GPSLive stores previous route history for up to 1 year in the past.
Alerts & Notifications
Setup alerts via GPSLive to get notified instantly incase theft,speeding or unauthorized use of business assets. GPSLive notifies the users instantly via e-mail, SMS, web and mobile push notifications. Alerts include geo-fence zones to get notified if a vehicle enters or leaves an area, aggressive acceleration, speeding, idling as well as if the vehicle is being towed away. Alerts are ideal to get notified of important events without having to keep an eye on the vehicles at all times. Smartphone notifications are delivered in just a few seconds from the event, providing users with incomparable information.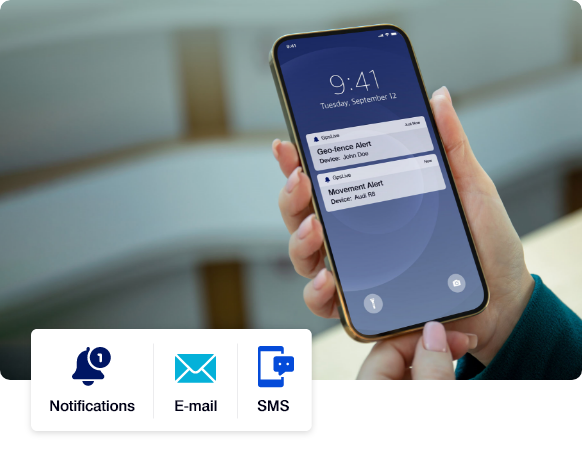 Frequently Asked Questions
Below you can find answers for the most frequently asked questions by our customers.
Can more than one person have the app for just one tracker?
The GPSLive App can be used on multiple devices using the same login. GPSLive is available for Apple IOS and Android devices. Users can also track via www.GPSLive.co.uk. You can also set-up sub-accounts to provide limited access to your account and trackers.
Where is the best place to put a GPS tracker on a Vehicle?
The best position for a tracker in a vehicle would be the cockpit or boot. GPS trackers do not like thick metal as it blocks its signal. Due to this we recommend either the cockpit or boot as they tend to the clearest view to satellites.
Will this device still track and report if outside mobile phone coverage?
All Rewire Security tracking devices are able to utilise the 2G data network which currently offers the best coverage in the UK and Europe. Some devices also use the 3G and 4G bands as well. In the event that all mobile data coverage is lost the tracker will log all the location data to its internal memory and automatically load it to the GPSLive system once the connection is re-established.
Why do I need a Car Tracker?
Installing a GPS tracking device on your vehicle can increase the security of the vehicle and improve driver safety as well. Furthermore, GPS trackers on your fleet can reduce running cost and the vehicles environmental impact by improving driving behaviour. In some cases, having a GPS tracking device fitted can also help reduce your insurance premiums.
What Car Tracker is best for me?
There are many factors that will determine the best GPS tracking solution for you. How It is installed, whether it is Thatcham insurance approved or not and the type of vehicle you want to track. Rewire Security offers one of the UK's widest ranges or GPS tracking devices with a solution for your tracking needs.