DB4 Car Lighter
Compatibility:
£39.99
DB4 Car Lighter Socket
DB4 Car Lighter Socket – GPS Tracker is a compact and plug and play GPS tracker ideal for tracking and locating cars and vans. We have managed to squeeze a GPS/GNSS module for location tracking along with a GSM module, an accelerometer (for theft and crash detection). The DB4 does not require any external antennae to operate! After plugging in the DB4, your car will automatically start reporting it's location and speed, along with many other useful parameters to our cloud-based GPS Tracking software, GPSLive. GPSLive can be accessed from Smartphones, Tablets, or other web-enabled devices anytime to view the real-time GPS data about your vehicles. There is no need to install any proprietary software or maps to your computer.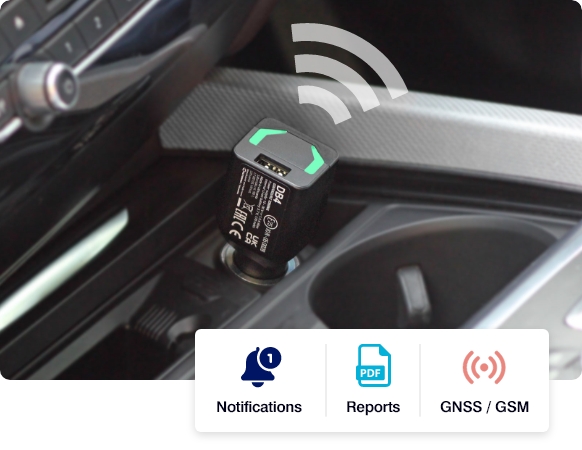 UK, EU or Global Coverage
GPSLive service subscription includes coverage in UK & EU, with an optional coverage for more than 120 countries, unlimited GPSLive software, and GPSLive app usage. The tracker will be supplied pre-configured by our team of experts, and it will installedwith a multi-network SIM card. Our M2M SIM cards will pick up the best signal in 120 countries and there are no extra roaming charges or hidden fees when you're abroad.
Prepaid tracking service options.
Unlimited GPSLive software and app access, only one cost. No hidden fees or long contracts.
Previous Route History
GPSLive cloud-based GPS tracking software is engineered to meet the highest demands of individual users, small businesses to enterprise level fleets without compromising ease of use.The location of each asset is automatically updated on the map in near real-time. GPSLive allows users to view previous route history and trip timeline, to find out when and where a vehicle has been in the past.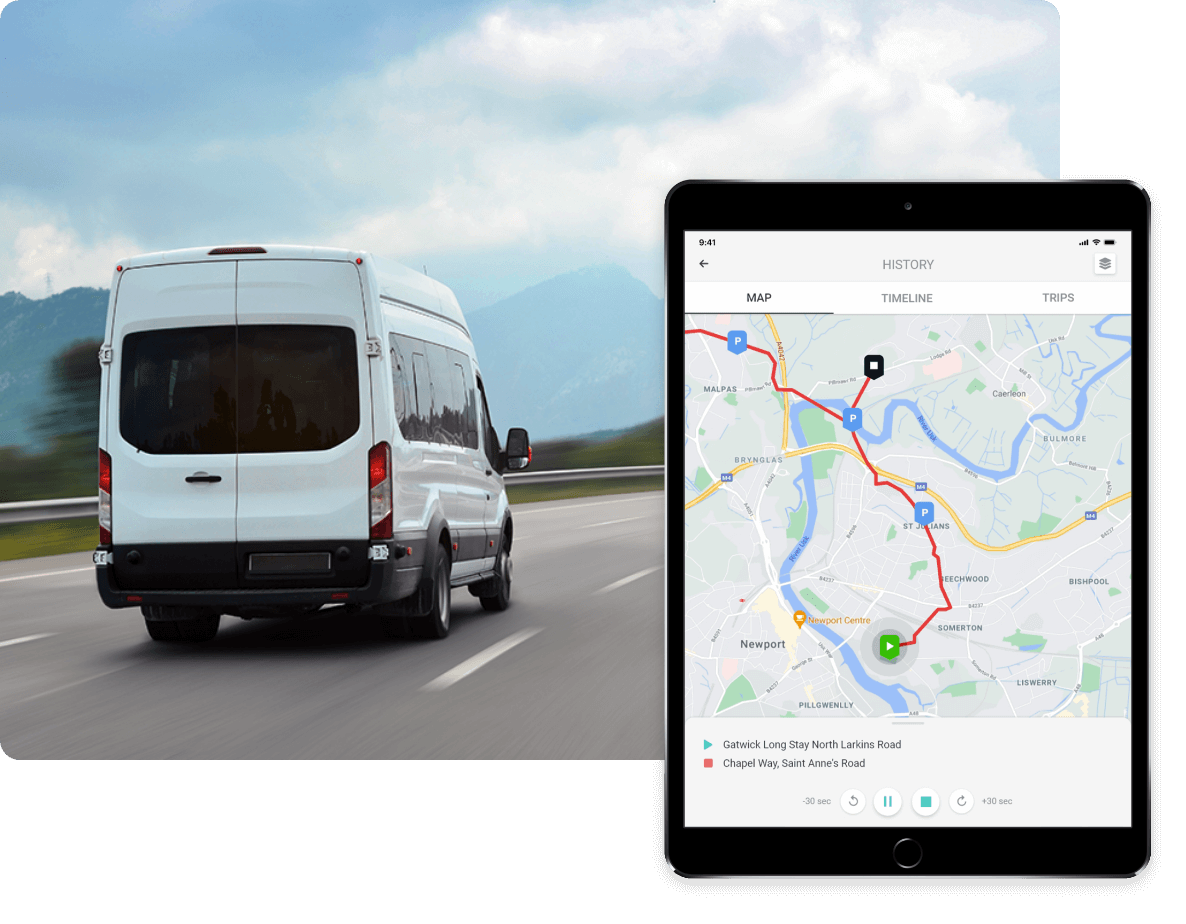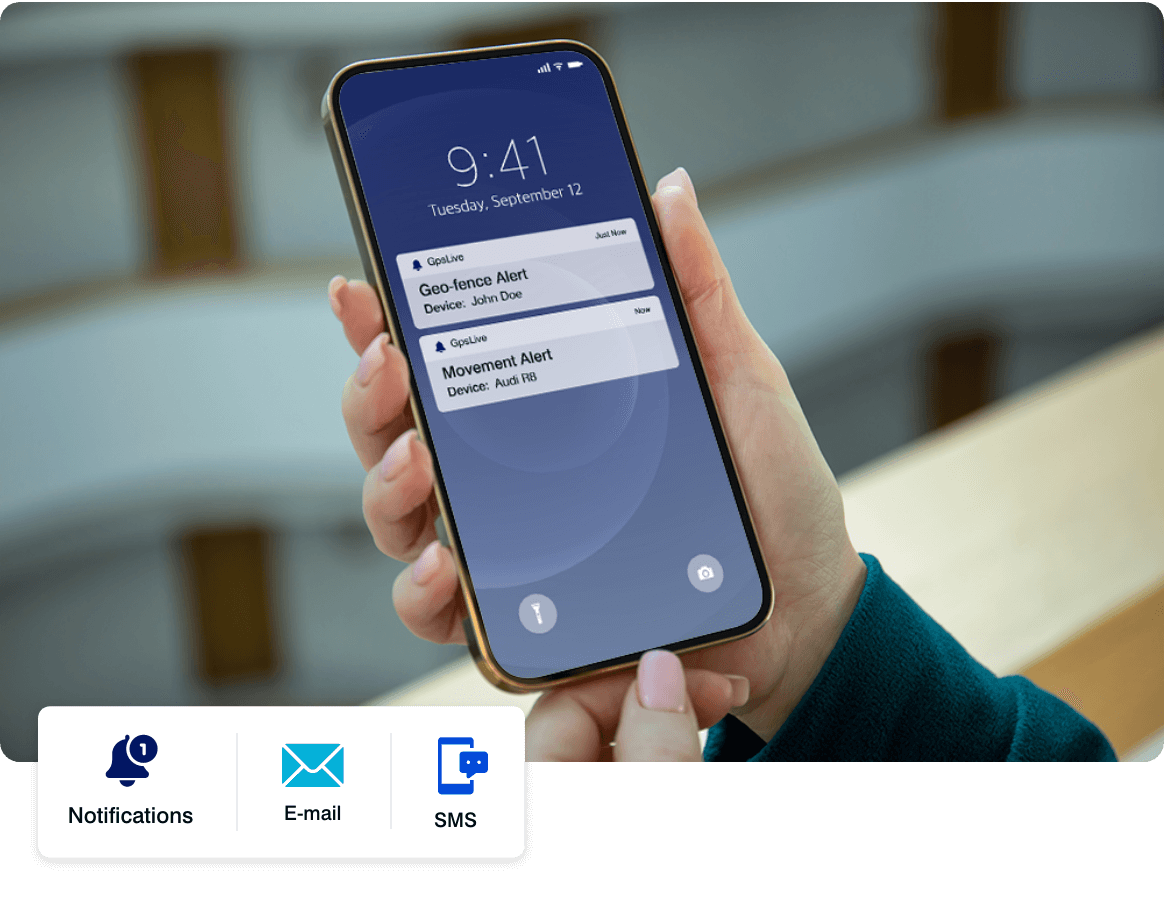 Alerts & Notifications
Setup alerts for important events such as; speeding, idling, moving, out of work hours use, or draw boundaries around important areas to use the zone in and out alerts to get instantly notified if a vehicle enters or leave the zone. You will be able to opt. in to get notified by SMS, email or push notifications on your smartphone if you use the GPSLive app. Alerts allow you to keep an eye on your valuable assets or vehicles at all times.
Key Features
Overspeed Alert
The device can be set to alert you whenever the vehicle exceeds a certain speed.
Custom Reports
Make better decisions with extensive vehicle performance and driver behaviour reports.
Route History
View and replay the previous routes driven by your vehicle, stored in the cloud for the past 1 year.
Ignition Status
Monitor your vehicle's ignition status at all times. Get notified instantly if the engine is turned on or off.
Geofence Zones
Draw boundaries around important locations on the map to get notified if a vehicle enters or leaves the zone.
Service Alerts
Manage your service routine with custom service alerts based on mileage, engine hours or date.
Trip Logs for Businesses
For businesses with a vehicle fleet, fuel bills make up a considerable share of total expenses. Recording business mileage for tax reimbursements can be a hassle – especially when done on paper – but the benefits make it worthwhile. GPSLive – Trip Log feature enables business owners to mark business and private usage of fleet vehicles, allowing managers to easily distinguish mileage done between business and personal use for tax reimbursements.
Dashboards & Charts
GPSLive presents detailed fleet information in a visual manner allowing managers to easily figure out the idling, speeding, fuel usage data regarding fleet vehicles. Overall fleet, driver and vehicle dashboards provide a great deal of information in charts allowing you to find out the miss-behavior drivers, most used vehicles and top speeders in just a few seconds. Sensor dashboard provides data on sensors such as fuel, temperature and humidity levels.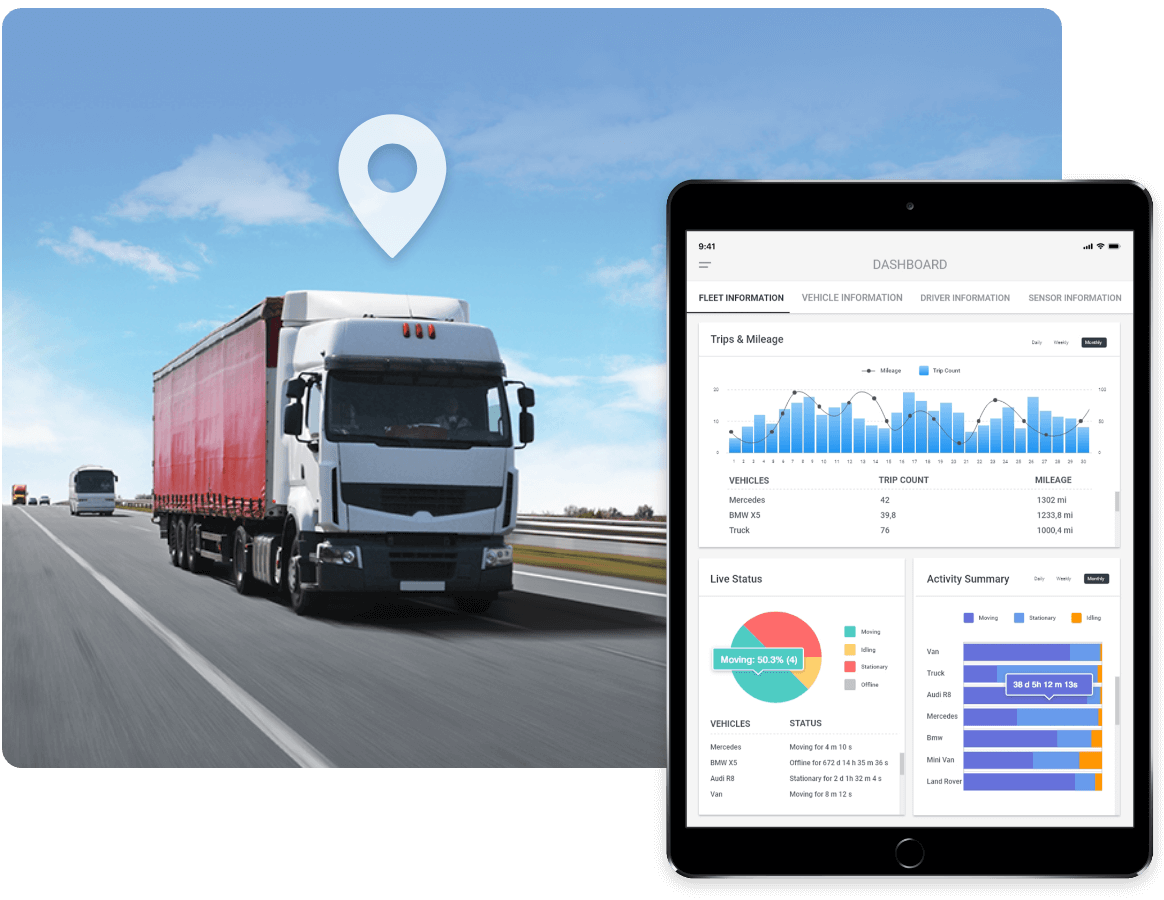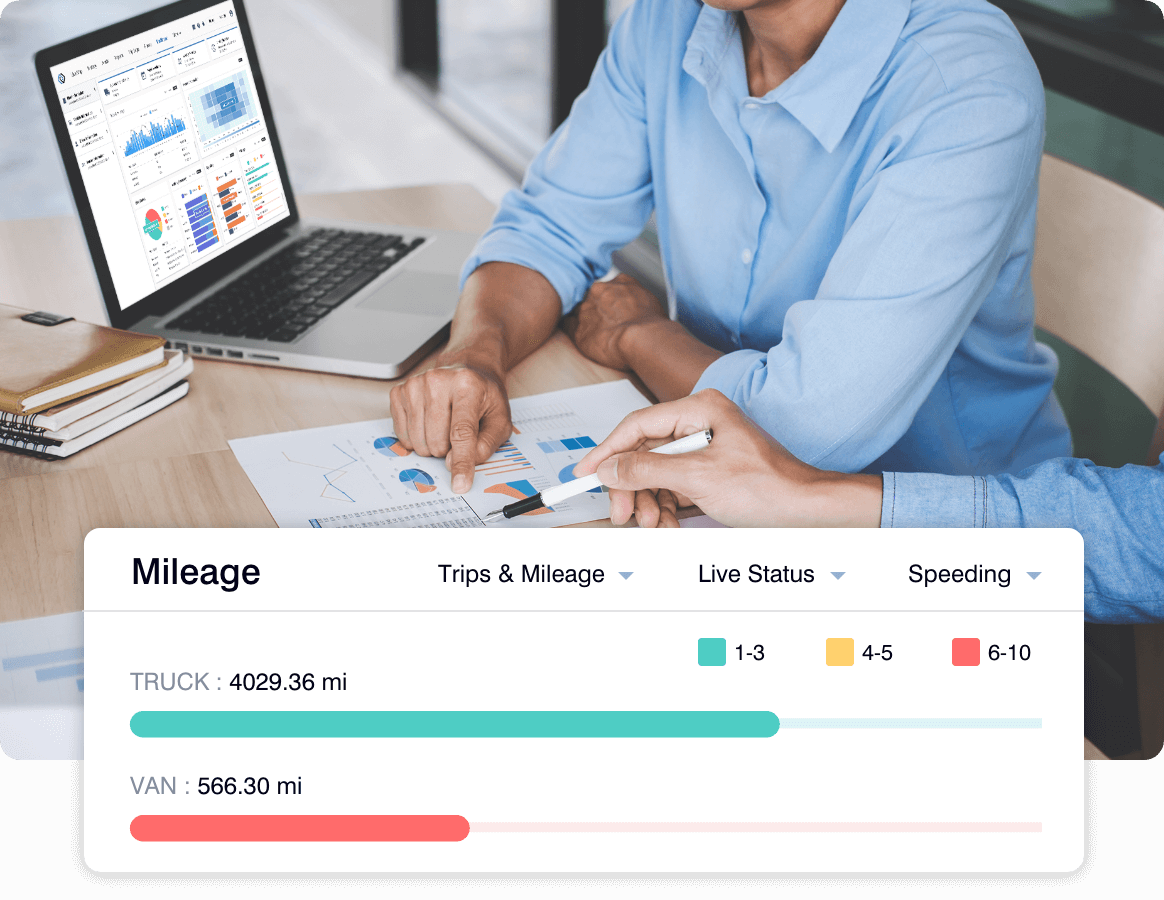 Extensive Reporting
GPSLive reporting system offers a wide choice of reports available for your use. The reporting system allows you to see what your vehicles have been used for and the total mileage, average and top speed associated with the chosen timeframe. Reports can be scheduled to be emailed to you automatically or can be downloaded manually, on demand. You can view vehicle information such as the location, speed, used routes, trip duration and fuel usage.
Features:
Back up battery
Easy install
Private/Business Mode button/switch
USB type A socket for charging external devices
GSM/GPRS Module
Quad band: 850/900/1800/1900 MHz
GPRS Multi-Slot Class 12(up to 240 kbps)
GPS Module
GNSS – GPS, GLONASS, GALILEO, BEIDOU, SBAS, QZSS, DGPS, AGPS
Accuracy
~ 2 meters
Connection
Cigarette lighter socket
Antennas
Internal High Gain GPS/GNSS – Internal High Gain GSM/GPRS
Battery
170 mAh Li-Ion battery 3.7 V (0.63 Wh)
Memory
128MB internal flash memory
Working Voltage
10 – 30 V DC with overvoltage protection
Operating Temperature
-40 °C to +85 °C @ max 95% humidity (no condensation)
Power Draw
At 12V < 5 mA (Ultra Deep Sleep), At 12V < 9 mA (Deep Sleep)
At 12V < 11 mA (GPS Sleep) ,At 12V < 26 mA (nominal)
Fuse Rating
Internal 3A
Casing
Standard Plastic
Dimensions
96,7 x 33,4 x 27,5 mm (L x W x H)
Weight
63g
Compliance
CE, RoHS
Origin
Lithuania (EU)
Traveling abroad often? Then our Global M2M Sim card is a fantastic solution to avoid costly roaming charges, instead pay a fixed annual cost.
M2M data sim cards are developed for use in data only communicating situations, such as Telematics Devices and GPS tracking devices.
In addition to being able to roam across the Globe with no extra charges, our M2M data sims are multi-network which means,
they are able to work across different networks and switch to whichever has a stronger signal.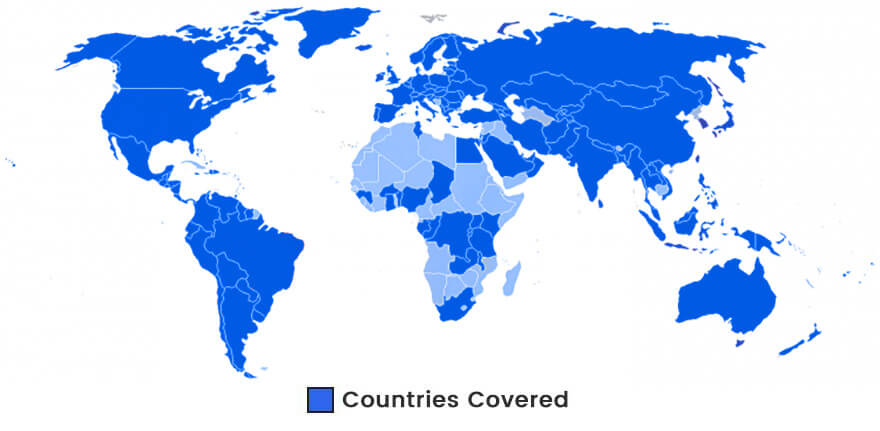 | | |
| --- | --- |
| COUNTRY | NETWORK |
| Afghanistan | Emirates Telecommunications Corporation (ETISALAT) |
| Albania | Eagle Mobile |
| Albania | Vodafone – Albania |
| Anguilla | Cable and Wireless (Anguilla) Ltd |
| Antigua and Barbuda | Cable & Wireless Antigua & Barbuda Ltd |
| Argentina | Telefónica Móviles Argentina S.A. |
| Armenia | UCOM LLC |
| Armenia | Armenia Telephone Company (Armentel) Joint Venture |
| Aruba | New Millennium Telecom Services NV |
| Austria | Hutchison Drei Austria GmbH |
| Austria | T-Mobile Austria GmbH |
| Azerbaijan | Azercell Telecom LLC |
| Azerbaijan | Azerfon LLC |
| Bahamas | Be Aliv |
| Bangladesh | Grameenphone Ltd |
| Bangladesh | Banglalink Digital Communications Ltd. |
| Barbados | Cable & Wireless (Barbados) Ltd |
| Belarus | Unitary enterprise velcom |
| Belarus | JLLC Mobile TeleSystems |
| Belgium | Telenet Group BVBA/SPRL |
| Belgium | ORANGE Belgium nv/SA |
| Belgium | Proximus PLC |
| Belize | Belize Telemedia Limited |
| Benin | Etisalat Benin SA |
| Bolivia (Plurinational State of) | TIGO – Telefonica Celular de Bolivia S.A. |
| Bolivia (Plurinational State of) | VIVA – Nuevatel PCS de Bolivia |
| Brazil | Vivo S.A. |
| British Virgin Islands | Caribbean Cellular Telephone |
| British Virgin Islands | Cable and Wireless (BVI) Ltd |
| Brunei Darussalam | Progresif Cellular Sdn Bhd |
| Bulgaria | Telenor Bulgaria EAD |
| Bulgaria | Mobiltel EAD |
| Burkina Faso | Airtel Burkina Faso S.A |
| Burundi | Lacell SU |
| Cambodia | Vietell network |
| Canada | Videotron General Partnership |
| Cayman Islands | Cable and Wireless (Cayman Islands) Ltd |
| Chad | Airtel Tchad |
| Chile | Telefónica Móvil de Chile S.A. |
| China | China Mobile Limited |
| China | China Unicom |
| Colombia | Colombia Telecomunicaciones S.A. ESP |
| Congo, Republic of | Airtel Congo SA |
| Congo, The Democratic Republic of the | Airtel Congo RDC SA |
| Congo, The Democratic Republic of the | Vodacom Congo (RDC) S.A. |
| Costa Rica | MOVISTAR -Telefonica Costa Rica |
| Croatia | Tele2 d.o.o za telekomunikacijske usluge |
| Croatia | VIPnet d.o.o. |
| Cyprus | Cyprus Telecommunications Authority |
| Cyprus | MTN Cyprus Limited |
| Cyprus | PrimeTel PLC |
| Czech Republic | O2 Czech Republic a.s. |
| Czech Republic | Vodafone Czech Republic a.s. |
| Czech Republic | T-Mobile Czech Republic a.s. |
| Denmark | HI3G Denmark ApS |
| Denmark | Telia Nattjanster Norden AB |
| Denmark | Telenor A/S |
| Denmark | TDC Denmark A/S |
| Dominica | Cable & Wireless Dominica Limited |
| Ecuador | Otecel Sociedad Anónima |
| Ecuador | Corporación Nacional de Telecomunicaciones CNT E.P. |
| Egypt | Orange Egypt for Telecommunications |
| El Salvador | Digicel, S.A. de C.V. |
| El Salvador | Telefónica Móviles El Salvador, S.A de C.V. |
| El Salvador | Telemovil El Salvador, S.A. |
| Estonia | Telia Eesti AS |
| Estonia | Tele2 Eesti Aktsiaselts |
| Estonia | Elisa Eesti AS |
| Faroe Islands | Føroya Tele (Faroese Telecom) |
| Fiji | Digicel (Fiji) Ltd |
| Finland | Ålands Telekommunikation Ab |
| Finland | DNA Ltd |
| Finland | TeliaSonera Finland Oyj |
| Finland | Elisa Corporation |
| France | Free Mobile |
| France | Orange |
| France | Société Française du Radiotéléphone S.A. |
| France | Bouygues Télécom |
| Gabon | Celtel Gabon S.A. |
| Georgia | Mobitel LLC |
| Georgia | Geocell Ltd |
| Germany | Vodafone GmbH |
| Germany | Telekom Deutschland GmbH |
| Germany | Telefónica Germany GmbH & Co. OHG |
| Ghana | Airtel Ghana Limited |
| Ghana | Vodafone Ghana |
| Gibraltar | Gibtelecom Limited |
| Greece | Vodafone-Panafon Hellenic Telecommunications Company S.A. |
| Greece | Cosmote Mobile Telecommunications S.A. |
| Greenland | Tele Greenland  A/S |
| Grenada | Cable & Wireless Grenada Limited |
| Guadeloupe | Digicel Antilles Française Guyane |
| Guatemala | Telefónica Móviles Guatemala, S.A. |
| Guinea | Areeba Guinée S.A. |
| Guyana | U-Mobile (Cellular) Inc |
| Haiti | Communication Cellulaire d'Haiti SA |
| Honduras | Tigo – Telefónica Celular, S.A. (CELTEL) |
| Hong Kong | Hong Kong Telecommunications (HKT) Limited |
| Hong Kong | Hutchison Telecommunications Hong Kong Holdings Limited |
| Hong Kong | SmarTone Mobile Communications Limited |
| Hong Kong | China Mobile Hong Kong Company Limited |
| Hungary | T-Mobile Hungary |
| Hungary | Vodafone Hungary Mobile Telecommunications Company Limited |
| Hungary | Telenor Magyarország Zártkörűen Működő Részvénytársaság |
| Iceland | Síminn h.f. |
| Iceland | Vodafone |
| Iceland | Nova ehf. |
| India | Aircel Limited |
| India | Vodafone India Limited |
| Indonesia | PT. XL Axiata Tbk |
| Indonesia | PT Indosat Tbk |
| Indonesia | PT Telekomunikasi Selular |
| Iran, Islamic Republic of | MCI/TCI |
| Ireland | Three Ireland (Hutchison) Limited |
| Ireland | Meteor Mobile Communications Limited |
| Ireland | Vodafone Ireland Limited |
| Israel | Hot Mobile Ltd. |
| Israel | Pelephone Communication Ltd. |
| Italy | H3G S.p.A. |
| Italy | Wind Telecomunicazioni S.p.A. |
| Italy | Vodafone Italia S.p.A |
| Italy | Telecom Italia SpA |
| Jamaica | Cable & Wireless Jamaica Limited |
| Jamaica | Digicel (Jamaica) Limited |
| Japan | KDDI |
| Japan | SoftBank Corp. |
| Jordan | Zain / Jordan Mobile Telephone Services Company, Ltd. |
| Kazakhstan | Mobile Telecom-Service LLP |
| Kazakhstan | Kcell JSC |
| Kazakhstan | KaR-Tel LLP |
| Kenya | Airtel Networks Kenya Limited |
| Kenya | Telkom Kenya Limited |
| Kenya | Safaricom Limited |
| Korea, Republic of | LG Uplus |
| Korea, Republic of | KT Corporation |
| Korea, Republic of | SK Telecom Co., Ltd. |
| Kosovo | VALA – Monaco Telecom |
| Kuwait | Kuwait Telecom Company (K.S.C.) |
| Kyrgyzstan | Sky Mobile LLC |
| Lao People's Democratic Republic | VimpelCom Lao Company Ltd. |
| Latvia | Latvijas Mobilais Telefons |
| Latvia | Tele2 SIA |
| Liechtenstein | Telecom Liechtenstein AG |
| Lithuania | UAB Bitė Lietuva |
| Lithuania | Omnitel |
| Lithuania | UAB Tele2 |
| Luxembourg | POST Luxembourg |
| Luxembourg | Tango SA |
| Macao | Hutchison Telephone (Macau) Company Limited |
| Macao | Companhia de Telecomunicações de Macau, S.A.R.L. |
| Macedonia, the former Yugoslav Republic of | one.Vip DOO Skopje |
| Malawi | Airtel Malawi Limited |
| Malaysia | Celcom Axiata Berhad |
| Malaysia | Maxis Broadband Sdn. Bhd. |
| Malaysia | Digi Telecommunications Sdn Bhd |
| Malta | GO p.l.c. |
| Malta | Vodafone Malta Limited |
| Mexico | AT&T Comercializacion Movil, S. de R.L. de C.V. |
| Mexico | AT&T Comunicaciones Digitales, S. de R.L. de C.V. |
| Mexico | Pegaso PCS, S.A. de C.V. (MOVISTAR) |
| Moldova, Republic of | Moldcell S.A |
| Moldova, Republic of | Orange Moldova S.A. |
| Mongolia | MobiCom Corporation |
| Mongolia | Unitel LLC |
| Montenegro | Telenor d.o.o. Podgorica |
| Montenegro | MTEL d.o.o. Podgorica |
| Montserrat | Cable and Wireless (West Indies) Ltd. |
| Myanmar | Telenor Myanmar Limited |
| Nepal | NTC – Nepal Telecom |
| Netherlands | Vodafone Libertel B.V. |
| Netherlands | T-Mobile Netherlands B.V. |
| Netherlands | KPN B.V. |
| Netherlands Antilles | Curaçao Telecom N.V. |
| New Zealand | Spark New Zealand |
| New Zealand | Two Degrees Mobile Limited |
| New Zealand | Vodafone New Zealand Ltd |
| Nicaragua | Telefónia Celular de Nicaragua S.A. |
| Nigeria | Airtel Networks Limited |
| Nigeria | MTN Nigeria Communications Limited |
| Nigeria | Emerging Markets Telecommunication Services Ltd |
| Norway | Telia Norge AS |
| Norway | Telenor Norge AS |
| Norway | TDC Norway A/S |
| Oman | Oman Telecommunications Company S.A.O.G. |
| Pakistan | Pakistan Mobile Company Limited (PMCL) |
| Pakistan | Telenor Pakistan Limited |
| Palestine, State Of | Jawwal – Palestine Telecommunications Company |
| Panama | Telefónica Móviles Panamá, S.A. |
| Panama | Digicel (Panama) S.A. |
| Papua New Guinea | Digicel (PNG) Limited |
| Paraguay | Núcleo S.A. |
| Paraguay | Tigo – Telefonica Celular Del Paraguay S.A. (Telecel S.A.) |
| Peru | Telefónica del Perú S.A.A. |
| Philippines | Globe Telecom, Inc. |
| Philippines | Smart Communications, Inc. |
| Poland | Polkomtel Sp. z o.o. |
| Poland | P4 Sp. z o.o. |
| Poland | T-Mobile Polska S.A. |
| Poland | Orange Polska S.A. |
| Portugal | NOS – Comunicações, S.A. |
| Portugal | Vodafone Portugal – Comunicações Pessoais, S.A. |
| Qatar | Ooredoo QSC |
| Qatar | Vodafone Qatar Q.S.C. |
| Romania | Telekom Romania Mobile Communications S.A. |
| Romania | S.C. Orange România S.A. |
| Romania | S.C. Vodafone Romania S.A. |
| Russian Federation | LLC T2 Mobile |
| Russian Federation | PJSC Mobile TeleSystems (MTS) |
| Russian Federation | VimpelCom PJSC |
| Rwanda | MTN RwandaCell S.A.R.L. |
| Saint Kitts and Nevis | Cable & Wireless St Kitts & Nevis Limited |
| Saint Lucia | Cable & Wireless (St. Lucia) Limited |
| Saint Vincent and the Grenadines | Cable & Wireless (St. Vincent & the Grenadines) Ltd |
| Samoa | Digicel (Samoa) Limited |
| Saudi Arabia | Saudi Telecom Company (STC) |
| Saudi Arabia | MTC Saudi Arabia (Zain) |
| Serbia | Telenor d.o.o. |
| Slovakia | O2 Slovakia, s.r.o. |
| Slovakia | Orange Slovensko, a.s. |
| Slovakia | Slovak Telekom, a.s. |
| Slovenia | SI.Mobil d.d. |
| Slovenia | Telekom Slovenije d.d. |
| Slovenia | Tusmobil |
| South Africa | Cell C (Pty) Ltd |
| South Africa | Vodacom Group (Pty) Ltd. |
| South Africa | Mobile Telephone Networks (Pty) Ltd. |
| Spain | Vodafone España, S.A.U. |
| Spain | Xfera Móviles, S.A. |
| Spain | Orange Espagne, S.A., sociedad unipersonal |
| Spain | Telefónica Móviles España S.A. |
| Sri Lanka | Mobitel (Pvt) Limited |
| Sri Lanka | Dialog Axiata Plc |
| Sri Lanka | Hutchison Telecommunications Lanka (Pvt) Ltd |
| Suriname | TLESUR |
| Suriname | Digicel Suriname N.V. |
| Sweden | Telenor Sverige AB |
| Sweden | Hi3G Access AB |
| Sweden | Telia Company AB |
| Sweden | Tele2 AB |
| Switzerland | Swisscom (Switzerland) Ltd |
| Switzerland | Sunrise Communications AG |
| Switzerland | Salt Mobile SA |
| Taiwan | Chunghwa Telecom |
| Taiwan | Taiwan Star Telecom Corporation Limited |
| Taiwan | Taiwan Mobile Co.Ltd |
| Taiwan | Far EasTone Telecommunications Co Ltd |
| Tajikistan | Tacom LLC |
| Tanzania, United Republic of | Airtel Tanzania Limited |
| Tanzania, United Republic of | Benson Informatics Limited |
| Thailand | dtac TriNet Co., Ltd. |
| Thailand | True Move H Universal Communication Co., Ltd. |
| Thailand | dtac TriNet Co., Ltd |
| Thailand | Advanced Wireless Network Company Limited |
| Tonga | Digicel Tonga Limited |
| Trinidad and Tobago | Digicel Trinidad and Tobago Ltd |
| Tunisia | Tunisiana – Ooredoo Tunisie SA |
| Turkey | Avea Iletisim Hizmetleri A.S. |
| Turkey | Vodafone Telekomunikasyon A.S |
| Turkey | Turkcell Iletisim Hizmetleri A.S. |
| Turks and Caicos Islands | Cable and Wireless (TCI) Ltd |
| Uganda | Airtel Uganda Limited |
| Uganda | Uganda Telecom Ltd |
| Ukraine | Kyivstar, Private Joint Stock Company |
| Ukraine | Lifecell LLC |
| United Arab Emirates | DU – Emirates Integrated Telecommunications Company PJSC |
| United Kindgom – Jersey & Guernsey | JT (Jersey) Limited |
| United Kingdom | Telefónica UK Limited |
| United Kingdom | Hutchison 3G UK Limited |
| United Kingdom | Vodafone Ltd |
| United Kingdom | EE Limited |
| United Kingdom – Isle of Man | Manx Telecom |
| United States | Union Telephone Company |
| United States | Indigo Wireless, Inc |
| United States | Cincinnati Bell Wireless |
| United States | NE Colorado Cellular, Inc |
| United States | Sprint |
| United States | Verizon Wireless |
| United States | AT&T Mobility |
| United States | T-Mobile USA, Inc |
| United States | Limitless Mobile, LLC |
| Uruguay | Telefónica Móviles Del Uruguay S.A. |
| Uzbekistan | Unitel LLC |
| Venezuela, Bolivarian Republic of | Telefónica Venezolana, C.A. |
| Vietnam | Vietnamobile Telecomm |
| Zambia | Airtel Networks Zambia Plc |
| Zambia | Zambia Telecommunications Company Ltd (ZAMTEL) |