E-Bike Tracker For Electric Bikes
E-bike Tracking Package includes pre-configured GPS Tracker, 1 year GPSLive software and pre-paid 1-year SIM card. Once the tracker is installed on an e-bike, it will automatically start reporting its position to our cloud servers and you will be able to view its real-time location using a PC, tablet or smartphone. The Tracker features ultra-low current draw with Dynamic Energy Saving technology and the latest Quad GPS Module (GPS, GLONASS, GALILEO & AGPS) coupled with Smart Auto-Load Technology. GPSLive cloud-based GPS tracking platform is accessible using an internet browser on a PC or Mac as well as a mobile app for IOS and Android-based smartphones and tablets.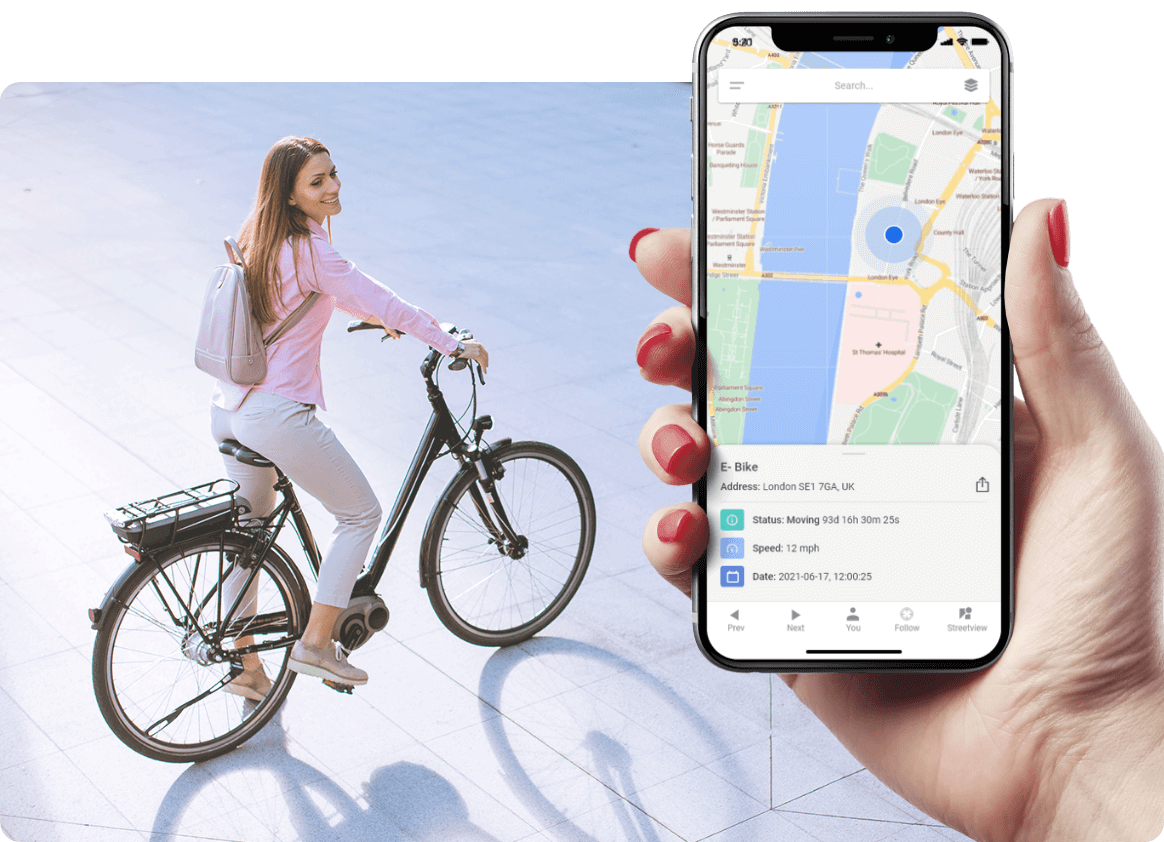 UK, EU or Global Coverage
GPSLive service subscription includes coverage in UK & EU, with an optional coverage for more than 120 countries, unlimited GPSLive software, and GPSLive app usage. The tracker will be supplied pre-configured by our team of experts, and it will installed with a multi-network SIM card. Our M2M SIM cards will pick up the best signal in 120 countries and there are no extra roaming charges or hidden fees when you're abroad.
Prepaid tracking service options.
Unlimited GPSLive software and app access, only one cost. No hidden fees or long contracts.
Previous Route History
Our user-friendly software GPSLive provides you with a self-explanatory interface for viewing and monitoring your e-bike at your fingertips! You can designate icons to different bikes and have an overview of various groups. The location of each bike is automatically updated on the map every few seconds. iOS and Android compatible APPs are included free of charge with your annual GPSLive software subscription. You can set-up informative reports to be created in HTML or PDF format, or even CSV format to allow the data to be imported into other databases or software systems GPSLive allows you to view the routes taken by your bike for the past 1 year.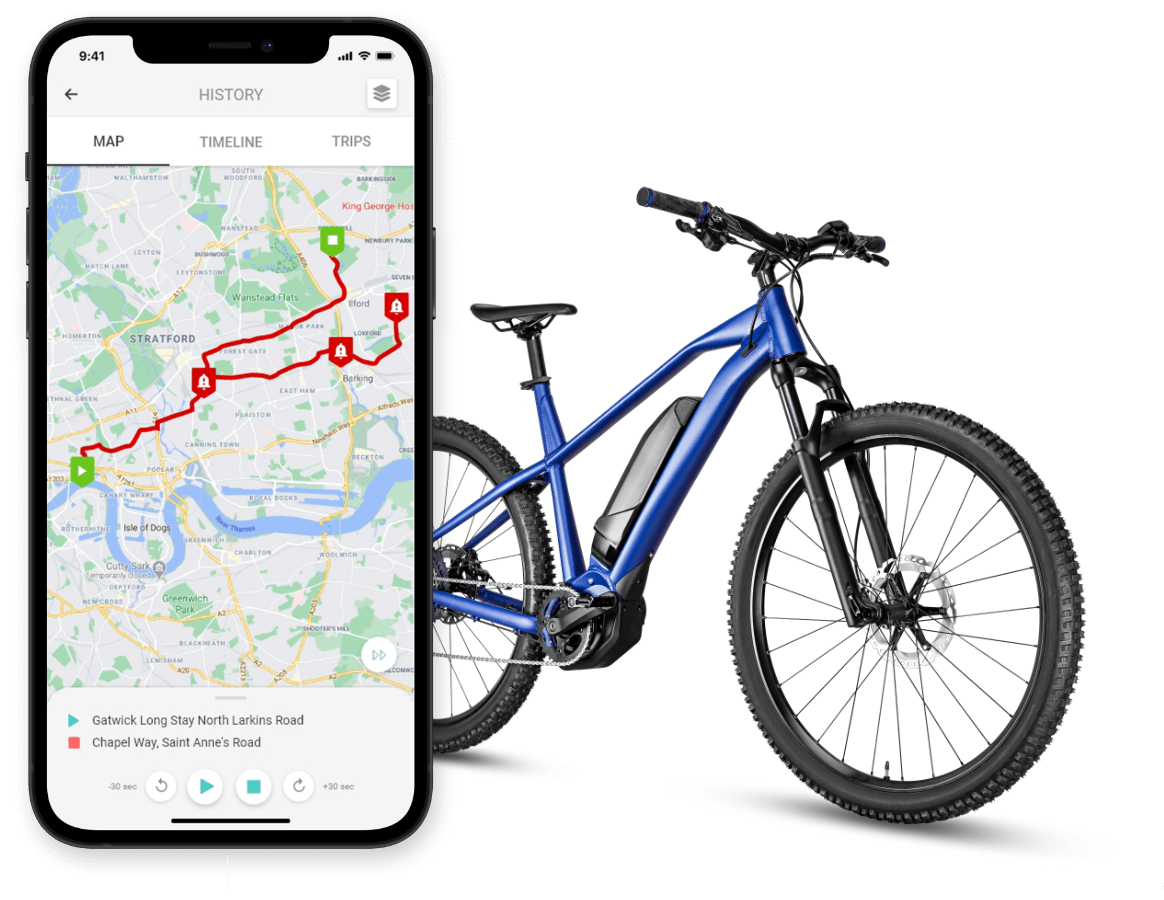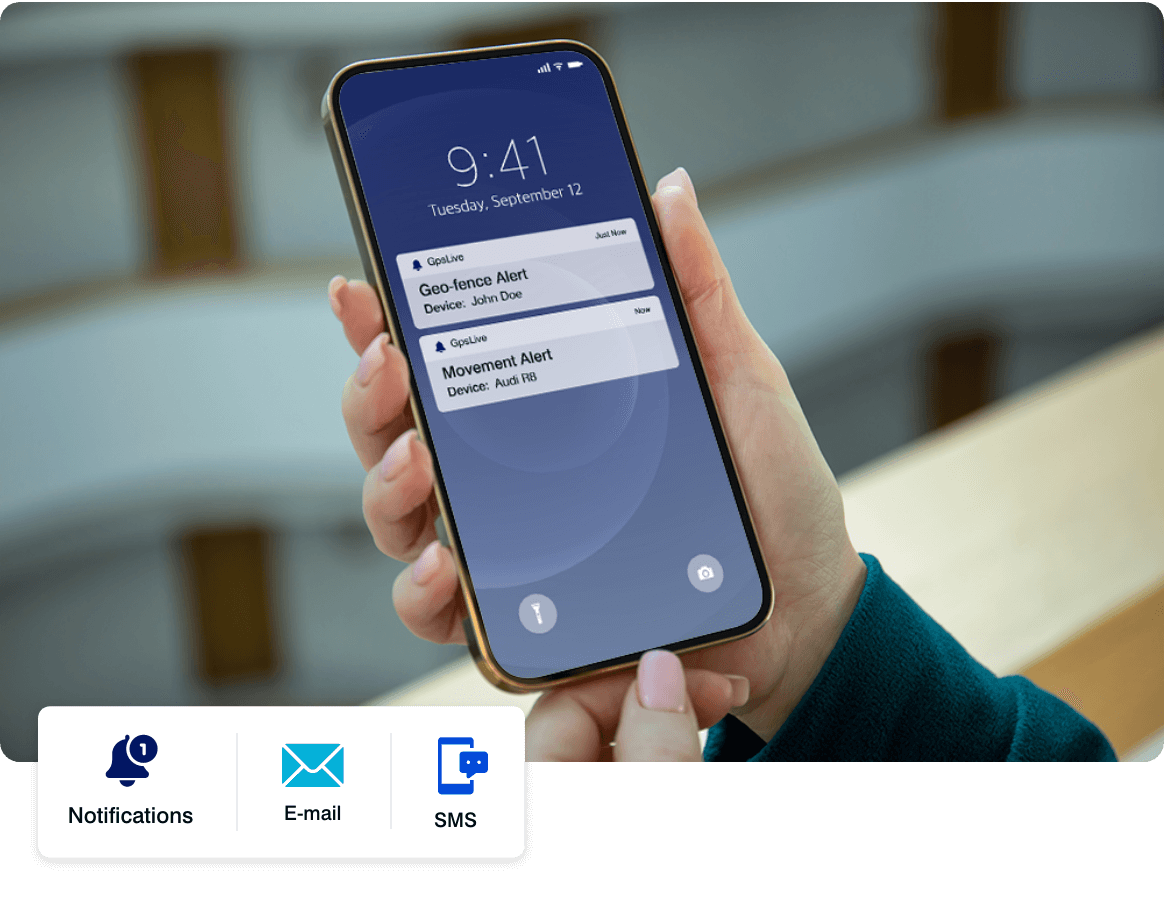 Alerts & Notifications
Setup alerts for important events such as; speeding, idling, moving, out of work hours use, or draw boundaries around important areas to use the zone in and out alerts to get instantly notified if a vehicle enters or leave the zone. You will be able to opt. in to get notified by SMS, email or push notifications on your smartphone if you use the GPSLive app. Alerts allow you to keep an eye on your valuable assets or vehicles at all times.
Key Features
Overspeed Alert
The device can be set to alert you whenever the vehicle exceeds a certain speed.
Custom Reports
Make better decisions with extensive vehicle performance and driver behaviour reports.
Route History
View and replay the previous routes driven by your vehicle, stored in the cloud for the past 1 year.
Ignition Status
Monitor your vehicle's ignition status at all times. Get notified instantly if the engine is turned on or off.
Geofence Zones
Draw boundaries around important locations on the map to get notified if a vehicle enters or leaves the zone.
Service Alerts
Manage your service routine with custom service alerts based on mileage, engine hours or date.