With the world changing and technology rapidly advancing, more vehicles and people are starting to use GPS tracking devices for their security, protection and for their businesses. As GPS tracking devices become more common, the areas of usage for these devices also increase and expand as well.
A GPS tracking unit is a device, installed on a vehicle or carried by a person that uses Global Positioning System to track the carrier in real-time or determine its position by using the data provided by GPS. This data can be stored within the tracker itself or transmitted to a central server which later can be accessed to display the route of a vehicle, analyze it to improve businesses or track the movements of a person. GPS tracking solutions also offer services like real-time tracking and tracking software that you can access via smartphones to oversee fleet operations and asset management.
Benefits of Using Tracking Devices
1- Customer Satisfaction
2- Versatility
3- Accessibility
4- Risk Management
5- Increase Productivity
6- Protection
7- Security
By using GPS tracking solutions fleet managers and business owners can track their vehicles in real-time; where they have been and where they will be. A detailed and comprehensive GPS tracking platform provides data for managers such as vehicle speed, route, gas usage, progress, and a lot more detailed information. With this information, businesses can make definitive decisions and get rid of guesswork. Fleet owners can make changes on routes to optimize mileage, schedule maintenance routines, manage cost assessment and evaluate the performance of employees much quicker and increase their customer satisfaction and in result boost their income.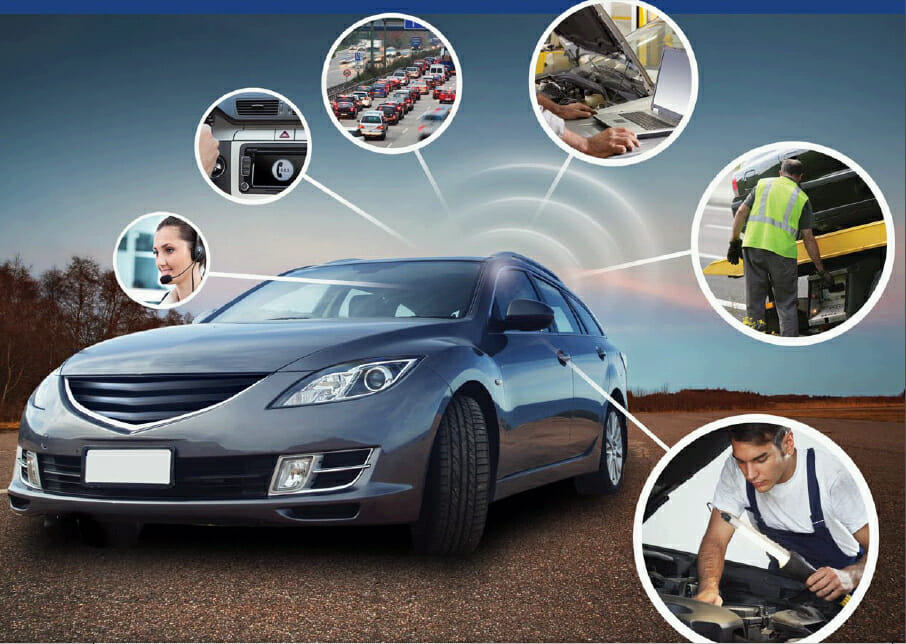 Tracking devices are easy to access via multiple devices such as mobile phones, laptops, and tablets on various operating systems. For business owners it's important to maintain a healthy fleet, quick access to tracking platform will allow managers to make decisions on how to maximize resource utilization, minimize expenditure and efficient use of fuel.
Companies can expand their businesses by integrating intelligent resources like GPS tracking solutions. Managing a fleet requires access to data at all times to make stable and informed decisions. GPS trackers provide detailed information and insight needed to make these decisions and increase profits.
Delivery companies require planning, precision, and most importantly the tremendous amount of organization to make sure packages arrive at their destinations quickly, efficiently and securely. Managers can conduct operations by using a vehicle's tracking device or accessing the tracking platform to ensure reliable, swift and safe deliveries.
GPS tracking platform and software allows you to track personnel, assets, and vehicles. Personal trackers will help you keep your staff, protected personnel or VIPs secure and trackers can be equipped with any number of devices such as microphones and speakers. In a dangerous situation, a person can alert authorities or contact security personnel immediately.
Tracking devices that are used to track vehicles and assets can also be equipped with fuel sensors and other similar sensors to detect the safety of assets and with the information provided by GPS devices, you can ensure maximum security for your customers.
Satellite network systems introduced a worldwide wireless network accessible from anywhere. Vehicle tracking devices use these systems to determine the location of a unit anywhere while a cellular network cannot provide you with the information you need if you are not in range of a cell tower. GPS systems are also compatible with cellular networks which give them greater accessibility.
Businesses need to safeguard their reputation and every time a vehicle that belongs to your fleet is on the road, it reflects the company to the public. GPS tracking solutions allow you to monitor driver behaviour, maintain driving habits, and keep your drivers safe by reducing accidents and thus keeps the company reputation safe.
GPS tracking management software provides critical data that wouldn't be noticed normally. Driver behaviour information can be tracked and allow managers to make instant evaluations and changes if necessary to protect the driver, the vehicle and maintain safer fleets.
Businesses need to ensure customer needs are met and keep their customers satisfied. With a GPS tracking solution managers can help drivers to reach the destination on time by messaging them or optimising their routes, this way fleet owners and managers can maintain a healthy fleet and satisfy customers.
The inter-connection is crucial for businesses to track their fleet's location and make changes when needed. Whether in or outside the office, GPS tracking software allows you to maintain constant access to the fleet's location through a smartphone. Activities such as speeding, reckless driving, unauthorised use can be detected and warnings can be sent via SMS or email.
Our real-time online tracking platform GPSLive ® is helping companies across all Europe manage mobile assets more efficiently.
Try Our Tracking Platform