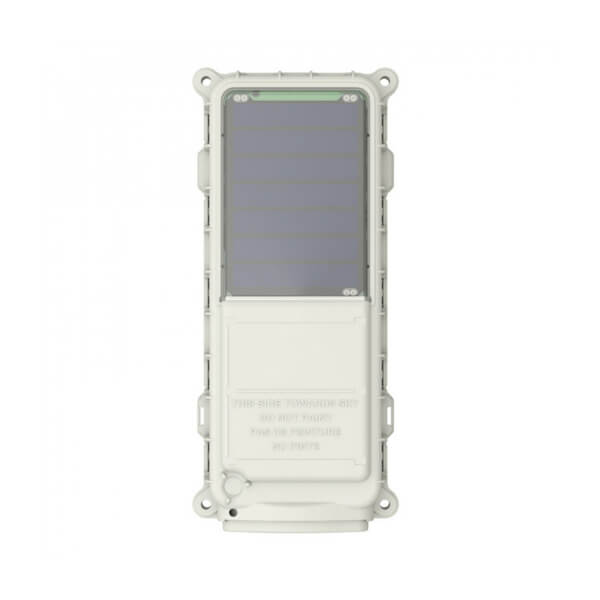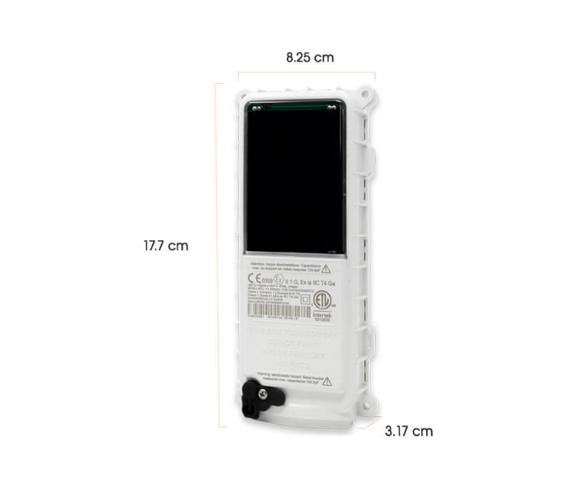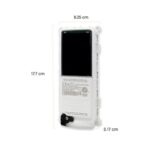 SAT100 Solar Satellite Tracker
Description
GPSLive
Features
Specs
Coverage
Additional information
Reviews (0)
Description
SAT100 Satellite Asset Tracker
SAT100 is a small, satellite based asset tracker powered by the Sun and its ideal for tracking and locating assets in the most remote areas, even in the middle of the ocean. Instead of the GSM cell tower network, SAT100 utilizes Globalsat Satellite Network to transmit its location to our servers, allowing the tracking device to be connected even on top of a mountain or in the middle of the ocean.
The tracker's data interval can be configured to transmit its location 1,2,4 or 6 times a day, making it ideal for tracking portable assets and vehicles in remote and distant areas where the GSM network is not available.
Does Not Require GSM Signals
SAT100 does not require GSM cellular tower connection because it uses Telecommunication Satellites to transmit its location. Operating with one of the fastest satellite networks in the world will allow you to access location data without any interruption, anywhere in the world and within seconds. SAT100 is ideal for tracing and locating; containers, assets, boats, and overseas cargo.
The device is equipped with an integrated accelerometer and motion sensors, for providing the user information on if the asset is stationary or moving. SAT100 is a plug and play tracker and it takes just a few seconds to install.
Powerful Tracking Software
GPSLive cloud-based GPS tracking software is engineered to meet the highest demands of individual users, small businesses to enterprise level fleets without compromising ease of use. Tracking the location of the SAT100 Asset tracker takes only a few minutes to set-up and it can easily be used by an inexperienced individual, because it does not require any wiring or complicated installation.
Our free mobile App allows you to view the real-time location on your IOS & Android compatible smartphone or tablet. Location of your trackers on the map are refreshed automatically each time the tracking device sends a position update to our cloud based tracking software GPSLive.
10 Years Stand-by Duration
SAT100 Portable Asset Tracker arrives at your doorstep pre-configured with an active GPSLive software and app subscription. Once the tracker is turned ON, it will start broadcasting its location to our cloud servers, easily accessible by using a smartphone or computer on-demand, anywhere in the world. GPSLive APP is compatible with IoS and Android and it comes free of charge.
SAT100 portable asset tracker is excellent for long-range logistics operations with its ability to save its power by sending scheduled reports and power saving modes to conserve battery life.
Informative Tracking
Our user-friendly software GPSLive provides you with a self-explanatory interface for viewing, monitoring and managing your vehicle or your fleet at your fingertips! You can designate icons to vehicles and have an overview of various groups of vehicles. The location of each asset is automatically updated on the map every few seconds. Our iOS and Android compatible APPs are included free of charge with your annual GPSLive software subscription.
You can set-up informative reports to be created in HTML or PDF format, or even CSV format to allow the data to be imported into other databases or software systems. SAT100 is s suitable for installing in all types of assets.
Track the whereabouts of your vehicles in real-time, anywhere in the world using your smartphone.
Shows the previous trips and routes carried out on any day, up to the previous 1 year.
Shows the list of recent events / alarms triggered with time and location of the event.
View the exact address of a vehicle or an asset by clicking on it.
"At a glance" dashboard for easy access along with live speedometer, battery, and ignition status
Set your smartphone to instantly warn you in case a pre-set event is triggered such as zone in/out and speeding alarms.
Access summary of all your GPS trackers along with diagnostics and sensor data, view, edit and track them.
Allows access to the trackers and personal settings and the option to enable push notifications.
GPSLIVE©
---
 REAL-TIME
 GPS TRACKING
 PLATFORM

GPSlive Cloud Based GPS Tracking Platform- is a powerful online tool that allows real-time locating and tracking of your vehicles or assets on a Mac, PC, Tablet or a Smartphone using the mobile GPS tracking APP. Easy to use, fully-featured tracking platform with no installation required. Login anywhere in the world using an internet web browser with your cloud-based tracking account. GPSlive allows you to monitor 1000s of tracked objects in real-time and also stores detailed rolling travel history for the previous 365 days including start, stops, routes and speed. GPSLive stores full travel data of each tracker for the previous rolling 365 days. Search and replay travel data via time and date, view logged events such as movement, speeding, ignition as well as all starts, stops, and journeys. Download and export travel data in various document formats. GPSLive user manual can be found here and includes information on initial setup, setting up geofences, objects, events and much more.
Create different logins with limited permissions or access rights. Advanced features including auto account expiry, URL login and live view only. Detect and monitor different settings on trackers remotely including battery state, input/outputs, towing and much more. Track who is driving what vehicle where when and how.
Using an application programming interface (API), your development team is able to create bespoke solutions that export live data from our systems into other back-office software tools. A variety of metrics can be extracted including current live position, trip summary, speed, driver behaviour and many other data parameters.
KEY FEATURES
---
Live Tracking: Track the location of your tracking devices in your vehicle, people, mobile or asset in real-time on our efficient interface.
History: GPSLive stores full travel history and information data of each tracker for the previous rolling 90 days.
Reports: Customise and create over 15 different detailed travel, usage and telematics reports, and export document files.
---
Geofencing: This feature allows users to set up custom geographical zones and boundaries around specific areas on the map.
Routes: Create and save previously travelled routes and activate alerts for vehicles that enters or leaves selected routes.
Points Of Interest (POI): Markers can be used to log and highlight different addresses, shops or points on the tracking map.
Send Commands: Change settings and modes on supported trackers directly on-line using our integrated 'Command Centre'.
Alerts: Create SMS, Email or Push notification alerts for important events such as speeding, SOS, ignition and more.
User Interface: Fully customisable user interface including time zone, colour schemes, sounds and icon sizes to name a few.
Features
Quick installation

Solar Powered

Satellite operation using the Globalstar Simplex Data Network

4 different location reporting times
Package Contents
GSM/GPRS Module

None. SAT100 Uses the Globalstar Simplex Satellite Network to report its location

GPS Module
GPS Module
Antennas
Internal
Battery
Solar Powered (Built-in rechargeable NiMH batteries)
Input Voltage
10 TO 48 VDC
Waterproof
 IP68/69K Water resistant
Operating Temperature
-22 to 140°F (-30 to 60°C)
Bluetooth
None
Dimensions
3.25 im x 7 in x 1.125 in
8.26 cm x 17.78 cm x 2.86 cm
Weight
13.5 oz/385 g
Power Saving
Standby mode, Scheduled Reporting
Compliance
CE, RoHS
SAT100 uses Globalstar Satellite network and it will provide coverage in 95% of the world.