Dash cameras have emerged as a revolutionary technology that has transformed how we drive and interact with our vehicles. Whether you're a personal car or a fleet owner, dash cameras are essential for anyone who owns a vehicle. While the objectives of using a dash camera might vary across people and users, it is a device that everyone should use.
A dash camera is mounted on the vehicle's dashboard and does a straightforward thing–records the entire trip or journey. However, video footage can serve a beneficial purpose for different factors. The first dash camera was developed in the 1980s in the United States and used by a police officer in a patrol vehicle.
Earlier, these dash cameras were huge and bulky and were held by a camera stand on the front or back windows. Moreover, the recordings were stored on VHS cassettes, which made storing data challenging. Not to mention, video clarity wasn't much appreciated.
Today, technological developments have introduced advancements and addressed the shortcomings of dash cameras. Nowadays, dash cameras are small, efficient, and affordable, fostering community security.
Initially, dash cameras recorded on-road events, but now we have dual-facing dash cameras with an inward lens that also record inside-the-cabin events. However, a new generation of dash cameras, known as 4G connected dash cameras, take their capabilities to the next level. These dash cameras are power packed with modern features and functionalities. Let's know about them in detail.
4G Connected Dash Camera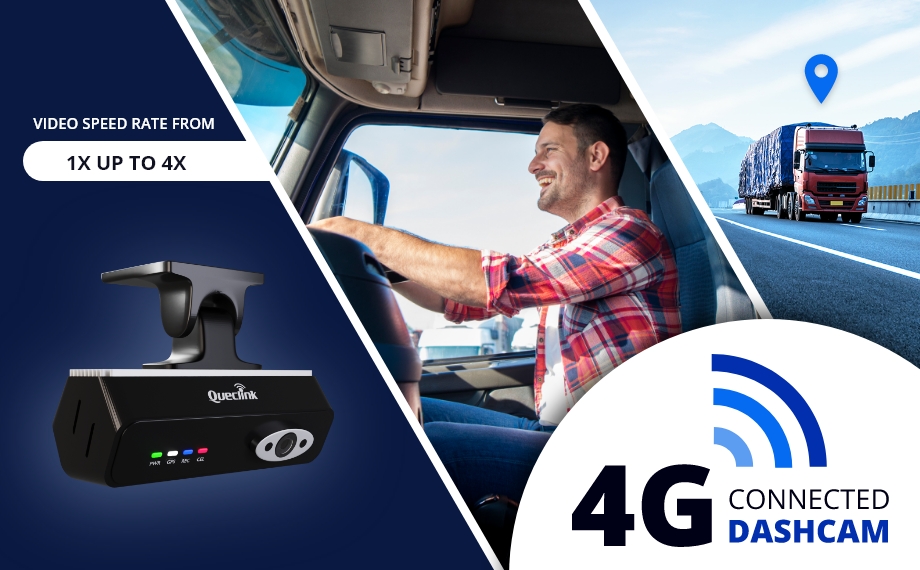 4G connected dash cameras are advanced devices that operate on 4G LTE connectivity. Unlike traditional dash cameras that solely rely on local storage or Wi-Fi connectivity, 4G connected cameras can transmit data over cellular networks, allowing for real-time video streaming, remote monitoring, and instant notifications. A SIM card in the dash camera enables it to access mobile data networks and fosters connectivity.
GPS Tracking
4G connected dash cameras have in-built GPS tracking that provides location data of the vehicle. So, if the fleet managers can view the video footage alongside understanding the location of the vehicle.
This allows accurate positioning and location information to be transmitted alongside the video footage. GPS tracking not only provides valuable data for fleet management and route optimization but also enhances the overall security of the vehicle by enabling precise tracking in case of theft or unauthorised use.
Instant Notifications and Real-time Alerts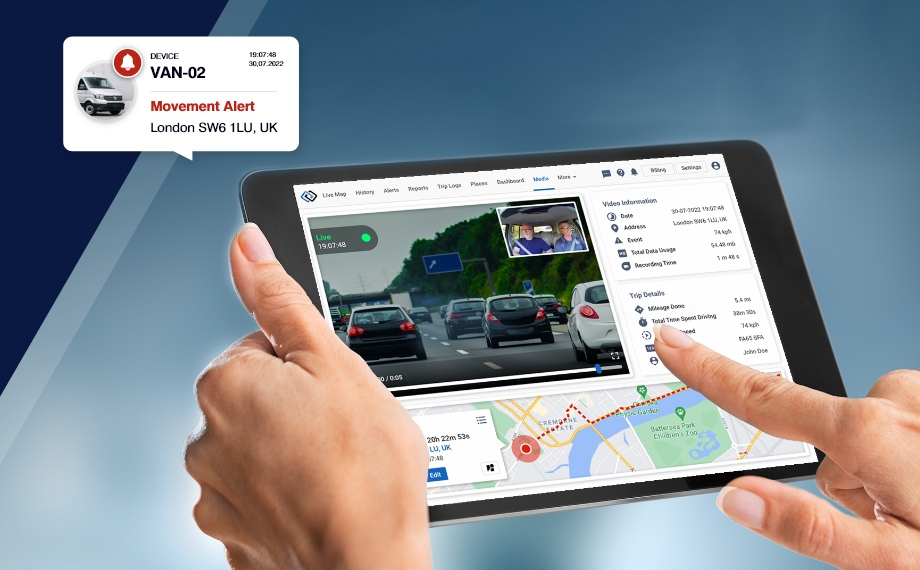 Similar to the GPS tracker, the 4G connected dash camera with built-in G-sensors provides real-time alerts. For example, if the driver is accelerating, hard braking, or cornering, the dash camera will immediately notify the fleet managers and generate reports accordingly. This not only promotes safer driving practices but also enables fleet managers to identify areas for improvement and implement driver training programs effectively.
Moreover, users can receive notifications anywhere worldwide, on their desktop or mobile app. These mobile apps offer both Android and iOS compatibility and are very efficient. Users can choose how to receive notifications–push messages, SMS, or emails.
High Specifications
4G dashcam records footage from in and out of the vehicle in HD 720p quality, providing clarity in recorded details. For example, better clarity and quality can help catch details that otherwise go missing during threats and frauds. You can have an accurate picture of thieves or fraudsters captured, which is helpful for police authorities in solving the case.
Additionally, 4G connected dash camera video footage is stored in the cloud. Earlier, dash cameras would record and store video footage on a local memory card that didn't offer unlimited storage capacity. So, these cameras loop data by replacing the old footage with new footage, which becomes a problem as you might lose some important data.
With unlimited storage space, high-quality videos can be easily backed up on the cloud without keeping track of SD cards or disks. It is hassle-free, fast and saves time in recovering data, allowing retrieving custom footage from a custom date and time for up to 10 days.
Impact and Incident Detection
This is a modern feature of these new-generation dashcams. 4G connected dash cameras now have intelligent AI algorithms that detect impact and incidents. For example, during accidents or collisions, it detects impact and notifies vehicle owners in real-time. This way, they can know if something destructive has happened and reach the site as soon as possible.
Such prompt notification enables quick action, whether contacting emergency services, dispatching assistance, or addressing potential security breaches. Impact and incident detection features can help reduce accidents and related costs, fostering safety and improving the longevity of vehicles. Moreover, the dash camera records these events (on the road and inside the cabin) and automatically stores the footage in the cloud.
Encourage Efficiency and Safety
4G connected dash cameras bring a new level of connectivity, functionality, and convenience to the world of dash cameras. The device improves overall driving operations and ensures efficiency. And with the widespread adoption of dashcams across the world, we can expect more innovations in these devices in the near future.
However, make sure to buy the 4G connected dash camera from a reliable and trustworthy service provider with a strong brand reputation in the market so that you're in safe hands.