Unpredictability in today's world is at its peak. From crimes and thefts to macroeconomic fluctuations, fleet companies worldwide have to tackle these challenges effectively and improve the bottom line. However, this doesn't just apply to fleet businesses; personal car owners, too, have to ensure that their vehicles are running smoothly without any interruptions.
Hence, many of them are installing GPS in cars. You might want to install a GPS tracking device on your vehicle for various reasons. Two of the main reasons are to improve a vehicle's security and to be able to locate it 24/7. By installing a tracking device, the chances of recovering a stolen vehicle increase tremendously with the help of real-time location tracking. You can share the location coordinates with law enforcement agencies to track down your car and save it from thieves before the situation worsens.
Apart from anti-theft purposes, businesses use GPS tracking systems to monitor the behaviour of their drivers, fuel usage, and routes taken. GPS installation gives you insights about speeding, harsh braking, cornering, etc., helping you closely monitor reckless driving habits and providing extra coaching to improve driving skills. So, you will instantly come to know the next time your teen kid is overspeeding.
GPS-based applications are also invaluable for businesses such as; car rental companies, ambulance services, distribution services, and plumbing companies.
However, many car owners are sceptical about installing GPS trackers because they think they need the necessary technical knowledge to attach one. Whether you use your GPS tracking device for security or tracking real-time location, car tracker installation is easy, and they work without a hitch.
After GPS tracker installation, tracking devices pick up the signals from the GPS satellites to deliver precise real-time locations. Cloud-based tracking software stores all the essential data sent by the tracking device to display them whenever necessary.
Detailed information such as speed, movement, location, and direction can be accessed anytime. Using the geofence zone feature, you can set up digital zones on the map and opt. in to get notified whenever a vehicle enters or leaves the geofenced area.
Experts recommend seeking the advice of a vehicle electronics professional, especially if you want to install multiple devices in many fleet vehicles. However, if you are planning to install tracker on car, there are certain factors you need to consider before you start the process.
Location of the Tracker
Deciding the location of the device is essential because if you install the tracker in a spot where there is interference or obstacles that block satellite signals, the accuracy of the vehicle tracking device will be lowered.
If you plan to install the tracker on the vehicle's exterior, you need a waterproof and durable tracking device to withstand harsh weather and environmental conditions.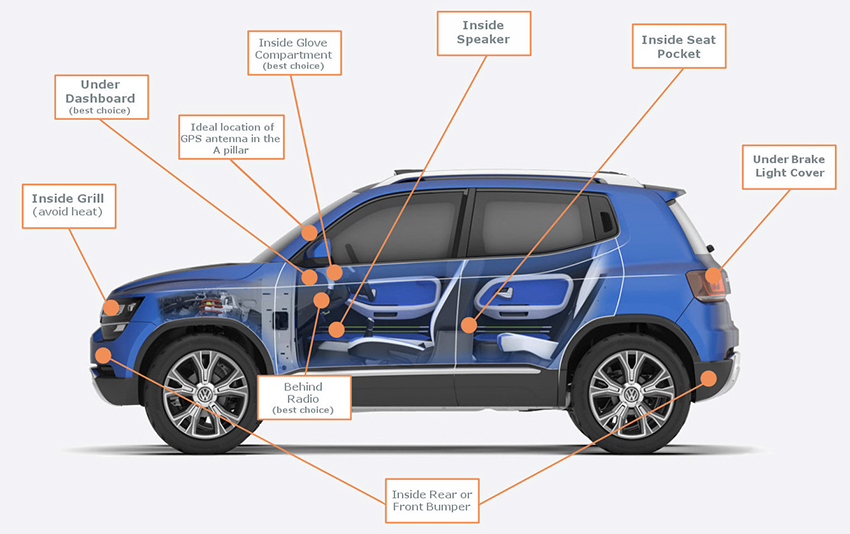 But many car owners and fleet companies consider installing GPS trackers where drivers cannot see them. Hence, you can place them under your car's dashboard, where signals can be easily transported. But remember that GPS signals transmit efficiently through surfaces like plastic, wood, glass, fibreglass, etc., and not through metal. So make sure you place the tracker away from any electronic device in the car.
Other than portable, battery-powered tracking devices, there are two types of tracking devices you can install on a vehicle: plug&play trackers that can be inserted into the OBD-II port and hardwired trackers.
OBD-II Port
OBD-II port stands for Onboard Built-in Diagnosis–a vehicle's diagnostic port, and it can be found on all cars manufactured after 1996. As the name suggests, you must plug in the tracking device and use the tracking software to locate your vehicle. OBD-II port is mainly used by mechanics to check error codes generated by the car computer in the event of a malfunction, and it is a great power source for vehicle tracking devices.
Technicians use the OBD-II port to get updates about the vehicle's different subsystems. The port functions through a computer-based application, and combined with a GPS tracker, fleets get data about engine health, fuel consumption, speed, etc.
You can find the OBD-II Port near the car's steering wheel, but some car manufacturers might locate it elsewhere. If you're considering getting a tracking device for anti-theft purposes, the tracker must be concealed, and it is tough to find. That's why the installation process must be done properly to prevent your tracker from being discovered.
Keep in mind that the tracker should be able to pick up direct satellite signals. Some of the best locations are; inside the plastic rear bumper, under the roof's top, under the seats, or vehicle using a magnet. After you complete the physical installation, you can locate your vehicle using cloud GPS software on a PC, Tablet, or Smartphone.
Each tracking device has its unique software and installation process. Make sure to follow the manual instructions carefully. After you install the device, you need to check if the tracking device is working correctly and transmitting location data. You can use a mobile app on your smartphone to view the real-time location of your vehicle anytime, anywhere.
You can test the tracker by turning it on and checking your location on the GPS software to see if it's correct. Installing a GPS tracker on your vehicle will significantly increase your vehicle's security. Even if your car is stolen, you can track its movements in real-time and alert authorities to recover it safely and as quickly as possible.
Installing Hard Wired GPS Trackers
The experts recommend fitting the wired tracking devices by a vehicle electronics expert, especially if you are looking to hide your tracker or have multiple trackers fitted in a fleet of vehicles.
As for hardwired tracking devices, they need to be connected to the vehicle's electrical system. If you decide to use a hardwired tracker, just locate a continuous power source that delivers 12v-24vDC. Make sure to check out the user manual. A red wire must be connected to constant power, and the black wire should be connected to the ground.
However, our latest tracking device, DB2 Self-Install GPS Tracker, is an exception to the rule, and it is simple enough to be installed by people without any technological expertise. All you need to do is locate your vehicle's battery, connect the wires, and place the tracker in your chosen location under the hood. You can start tracking your vehicle immediately in real time.
While this process is easy enough to figure out by yourself, we advise following the instructions on our installation video to ensure that DB2 works flawlessly.
DB2 Installation Guide:
Summing Up
Installing GPS tracker in car is straightforward, and you can refer to this GPS tracker installation guide if you face any difficulty. With precise location details, you know the whereabouts of your loved ones or your drivers, giving maximum peace of mind.
How to Install GPS Tracker in Car?
Plug-and-play GPS trackers are connected to the OBD-II port of the car. Firstly, you need to find the port, typically near the car's steering wheel. You need to use a velcro tie strip and attach it above the port connector. The next step is to secure the GPS tracker onto the binding tape and simply plug it into the port connector. It is imperative to fix the tracker firmly, which otherwise will create disturbances and distract drivers.
If you don't want to place the tracker near the steering wheel, you can still use the plug-and-play tracker by installing it someplace else using an extension cable. You can attach the tracker to a safe place, like below the vehicle's dashboard, use an extension cable, and connect the tracker to the OBD-II port.
The tracker will work once you start your engine and provide valuable benefits. However, give the tracker 5-10 mins after installation to accumulatevehicle stats.
How to Hardwire GPS Tracker in Car?
If you wish to install a hardwired GPS tracker, first and foremost, ensure that your car's ignition is off. Two car wires are to be connected to the GPS tracker–ignition and constant power wires. You'll find these two wires under the steering wheel of the car as these are linked to your vehicle's ignition switch.
The GPS tracker's red wire should be connected to the car's 12-volt power supply, and the white wire to the car's ignition wire. Finally, connect the black wire of the tracker to the car's grounding wire. You can refer to the car's guide to find the cables and check the tracker's user manual to hardwire the device properly. Our DB2 Self-Install GPS Tracker is very easy to install, and the entire setup can be done within minutes. Here's a step-by-step guide on installing our DB2 GPS Tracker.
Where to Install a GPS Tracker on a Car?
You can install a GPS tracker on a car in many places but ensure it is not exposed to harsh external conditions. The best place to install a tracker in a vehicle is where signal quality is strong, it cannot be tampered with, and it is out of the driver's sight–under the dashboard.
Use zip ties or velcro tapes to firmly secure the tracker and keep it away from metal or heat-producing surfaces. Besides the dashboard, you can place the tracker underneath seats but ensure the signal quality is good.
Summary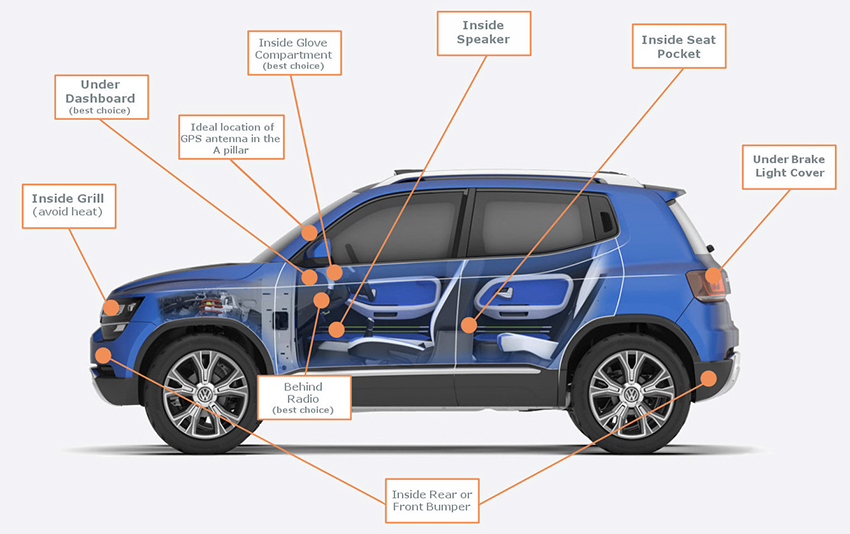 Article Name
How to properly install a GPS Tracking Device on a Vehicle
Description
Installation Guide: How to properly install a GPS Tracking Device on a Vehicle, where to place it and how to wire it.
Author
Publisher Name
Publisher Logo