There are various reasons why you might want to install a GPS tracking device on your vehicle. Two of the main reasons are to improve a vehicle's security and to be able to locate it 24/7. By installing a tracking device, the chances of recovering a stolen vehicle increase tremendously with the help of real-time location tracking. Apart from anti-theft purposes, businesses use GPS tracking systems to monitor the behaviour of their drivers, fuel usage and routes taken. GPS-based applications are also invaluable for businesses such as; car rental companies, ambulance services, distribution services and plumbing companies.
Whether you use your GPS tracking device for security or tracking real-time location, most GPS trackers are easy to install and they work without a hitch. After the installation process is completed, tracking devices pick up the signals from the GPS satellites to deliver precise real-time location. Cloud-based tracking software stores all the essential data sent by the tracking device in order to display them whenever necessary. Detailed information such as speed, movement, location, and direction can be accessed anytime. Using the geofence zone feature, you are able to set-up digital zones one the map and opt. in to get notified whenever a vehicle enters or leaves a zone.
Experts recommend seeking the advice of a vehicle electronics professional especially if you are looking to install multiple devices to a large number of fleet vehicles. However, if you are planning to install a tracking device to your vehicle, there are certain factors you need to consider before you start the process.
Deciding the location of the device is essential because if you install the tracker in a spot where there is interference or obstacles that block satellite signals, the accuracy of vehicle tracking device will be lowered. If you are planning to install the tracker on the exterior of the vehicle, you need a waterproof and durable tracking device to withstand harsh weather and environmental conditions.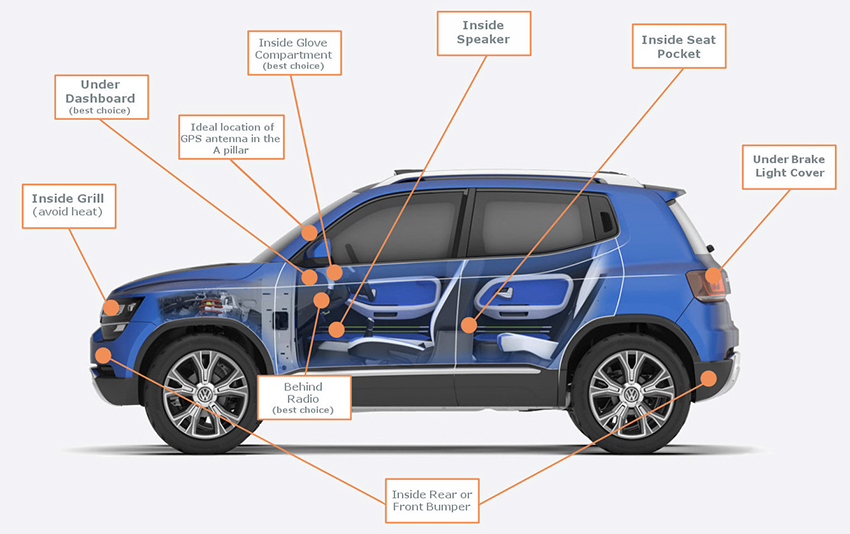 Other than portable, battery-powered tracking devices, there are two types of tracking devices you can install on a vehicle: plug&play trackers that can be inserted into the OBD-II port and hard-wired trackers. OBD-II port is a vehicle's diagnostic port and it can be found on all vehicles that have been manufactured after 1996. As the name suggests all you have to do is plug the tracking device and use the tracking software to locate your vehicle. OBD-II port is mainly used by mechanics to check error codes generated by the car computer in event of a malfunction and it is a great power source for vehicle tracking devices. As for hard-wired tracking devices, they need to be connected to the vehicle's electrical system. If you decide to use a hard-wired tracker just locate a continuous power source that delivers 12v-24vDC. Make sure to check out the user manual. There should be a red wire that must be connected to constant power and the black wire should be connected to the ground. If you're considering getting a tracking device for anti-theft purposes, it is crucial that the tracker is concealed and it is very hard to find. That's why it is important that the installation process is done properly in order to prevent your tracker from being discovered.
Keep in mind, that the tracker should be able to pick up direct satellite signals. Some of the best possible locations are; under the seats, inside the plastic rear bumper, under the top of the roof, under the seats or under the vehicle using a magnet. After you complete the physical installation, you will be able to locate your vehicle using cloud GPS software on a PC, Tablet or Smartphone. Each tracking device has its unique software and installation process. Make sure to follow the manual instructions carefully. After you install the device, you need to check if the tracking device is working properly and transmitting location data. You can use a mobile app on your smartphone to view the real-time location of your vehicle anytime, anywhere.
You can test the tracker by turning it on and checking your location on the GPS software to see if it's correct. By installing a GPS tracker on your vehicle, you will increase your vehicle's security significantly. Even if your vehicle is stolen, you will be able to track its movements in real-time and alert authorities to recover it safely and as quickly as possible.
Installing Hard Wired GPS Trackers
The experts recommend the fitting of the wired tracking devices done by a vehicle electronics expert especially if you are looking to hide your tracker or have multiple trackers fitted in a fleet of vehicles.
However, our latest tracking device DB2 Self-Install GPS Tracker is an exception to the rule and it is simple enough to be installed by people without any technological expertise. All you need to do is to locate the battery of your vehicle, connect the wires and place the tracker to a location of your choosing under the hood. You can start tracking your vehicle immediately in real-time.
While this process is easy enough to figure out by yourself, we advise following the instructions on our installation video to ensure that DB2 is working flawlessly.
DB2 Installation Guide:

Summary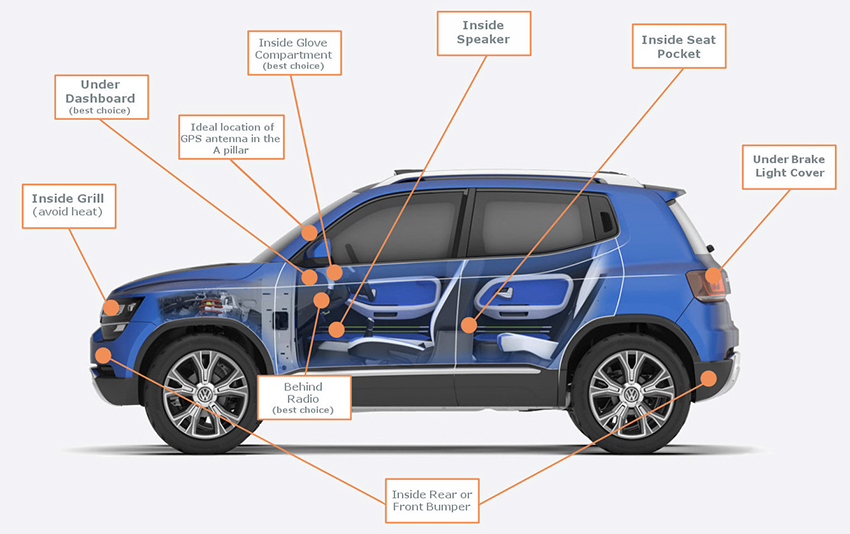 Article Name
How to properly install a GPS Tracking Device on a Vehicle
Description
Installation Guide: How to properly install a GPS Tracking Device on a Vehicle, where to place it and how to wire it.
Author
Publisher Name
Publisher Logo